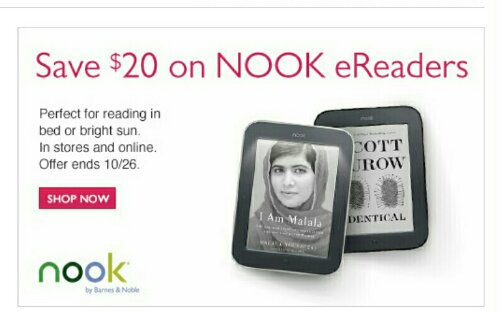 Barnes and Noble is offering a sale on their E Ink Nook ebook readers for what feels like the hundredth time. This is about as low as the prices have gotten, though, so they are definitely worth considering.
Both Nooks are marked down by $20 at B&N.com and in Barnes and Noble retail stores until October 26th, making a new Nook Touch just $59 and a Nook Glow $79.
At $59 the Nook Touch is hard to beat, even for out-dated hardware, which isn't really all that out-dated because E Ink evolves at the rate of a snail's pace. The screen and text still look really good compared to newer devices like the Kobo Aura and Kindle Paperwhite. Smaller text isn't as sharp, but the text is bolder.
At $79 I'd still pass on the Nook Glow, however. The frontlight just isn't very good at all compared to other frontlit ereaders, and the added layer makes the text appear noticeably lighter and grayer in tone, even with the light off. You'd probably be better off just buying a clip-on light for the Nook Touch, or spending $40-$50 more on the new Kindle Paperwhite or Kobo Glo if you really want a frontlight.
The great thing about the Nook Touch and Nook Glow are they can both be hacked and turned into E Ink tablets. You can install a bunch of Android apps, even competing ereading apps like the Kindle app. You don't have to rely on Barnes and Noble at all if you don't want to, which is nice because who knows if they are still going to be around in a few years.
Perhaps this sale is an indication that B&N is finally getting set to release a new E Ink Nook. But they run so many sales it's hard to say. They are running out of time if they indeed plan to release a new model, which they've hinted at before. They need to announce it before the end of the month to get it shipping before the middle of November if they want to take advantage of the busy holiday shopping season. I'm thinking that if B&N doesn't announce a new E Ink Nook in the next couple of weeks, then the Nook is done for. Simple as that.