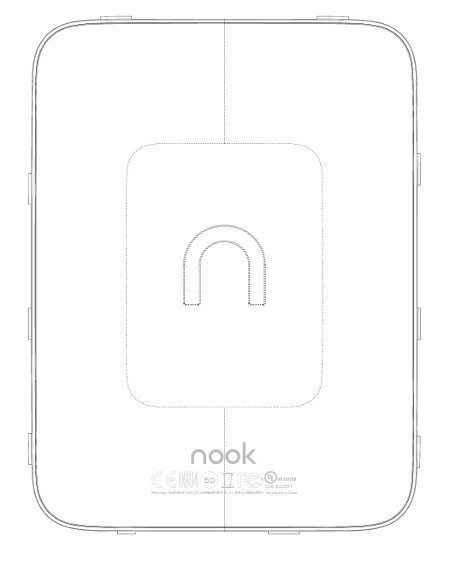 Yesterday what appears to be an updated Nook Touch turned up on the FCC website. Details are very sparse at this point, but at least it's good to finally see some conformation that there is indeed a new Nook ereader in the works after all.
Barnes and Noble has hinted as much in recent months, but they've yet to announce anything official or even set a date for an unveiling event, and with November rapidly approaching time is running out fast. They have less than a month to start shipping new Nooks if they plan on taking full advantage of the busy holiday shopping season.
B&N requested that all the product images and user manual be embargoed for 90 days from the filing date, which is September 18th, so all we've got to go off of is one basic image of the new Nook's backside.
One puzzling thing about the picture is the small protrusions that stick out on all four sides of the device, and the fact that one is smaller than the rest. I wonder what those are used for?
The few details revealed in the FCC documents include the model number, BNRV500, the battery size, 1,530mAh, and internal storage capacity of 4GB. Of course if it went through the FCC that means it has Wi-Fi too. But that's pretty much it for details; I guess we'll have to wait for B&N to make an official announcement to learn more.
I would guess that it certainly has an HD E Ink screen, but it will be interesting to see if it uses a Pearl display or the new Carta screens that are currently only found on the new Kindle Paperwhite.
Keep in mind that just because it was cleared by the FCC doesn't guarantee it will be released. Remember Sony's PRS-T3 found its way through the FCC a few months back, but then Sony decided to go ahead and not release it in the United States after all. Let's hope that B&N doesn't have a change of heart too.
In other Nook news, Barnes and Noble is running a sale on the Nook HD this week until the 26th. They have the price marked down from $129 to $109. But you can save a lot more if you go with a manufactured refurbished Nook HD for $69 from 1SaleADay via eBay. Don't forget that the Nook Touch and Nook Glow are also on sale for $59 and $79 respectively.