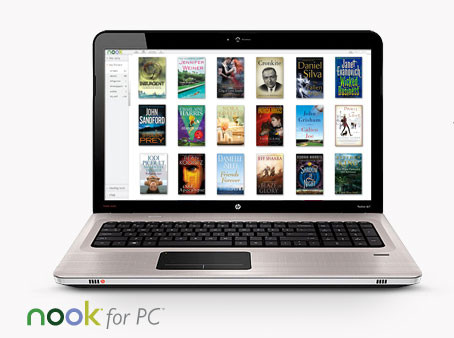 Back in June B&N caused quite a commotion when they abruptly removed the Nook for PC and Nook for Mac programs from their website, making it so that people could not easily download and read their purchased Nook books and periodicals on a computer.
In fact B&N received so much negative attention about it that they eventually ended up bringing back the Nook for PC and Nook for Mac programs for users to download. But that move was only temporary, as it turns out.
A couple weeks ago I noticed that Nook for PC and Nook for Mac were once again missing from Barnes and Noble's Nook reading apps page. They've probably been missing again for a long time and it's gone unnoticed. If B&N thinks they can get away with it this time without any bad PR they are mistaken.
Like last time, the programs are not listed anywhere on B&N's website, but you can still download them if you happen to know the exact url:
This is a bigger deal than it may sound like for the simple fact that Barnes and Noble is removing functionality from their ebookstore. Whether or not this has a direct impact on how you read ebooks isn't important. For people who made purchases with the idea that they could download and read their Nook books on a computer, they are being seriously shafted.
The biggest problem with Barnes and Noble's ebooks is that they contain different DRM that makes them incompatible with most dedicated ebook readers and reading apps. You pretty much have to own a Nook device or use a Nook app to read ebooks purchased from B&N. That's a huge limitation. And if you bought ebooks in the past when those programs were available you would have been able to read Nook books on a computer. But not anymore. Only if you own a Windows 8 computer.
Since Microsoft gave B&N a bunch of money, the only computer-based reading program they care about is the one for Windows 8, which still only represents a tiny percentage of overall usage. That's right. B&N chooses to ignore over 90% of the population. No wonder their business is sinking.
The folks at B&N will tell you that PC and Mac users can still use Nook for Web as an alternative, but from my experience that's a sorry alternative. Not only does Nook for Web require an internet connection to use, you can't download ebooks to read offline, there are very few features, it's slow, and worst of all not all Nook books are compatible. Not even close. About one third of my Nook books won't work with Nook for Web at all.