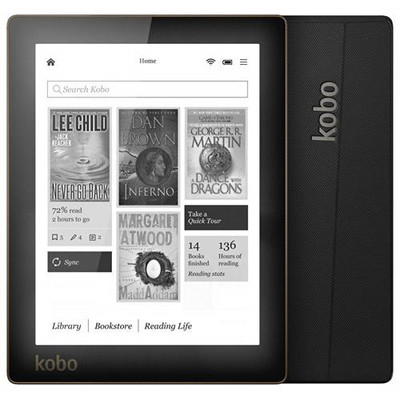 This morning I followed a link over to Best Buy's website and I happened to notice that they are now selling the Kobo Aura and Kobo Aura HD, and they aren't marketplace items either—they are being sold directly from Best Buy.com.
This is important because Best Buy used to be an authorized retailer for Kobo's ereaders, but then they stopped carrying them altogether for what has probably been at least a year or more now.
All this time Kobo's ereaders have been available from Best Buy in Canada, but the US website stopped selling them a long time ago, except for the occasional 3rd party merchant with some of the older models for inflated prices.
Best Buy still doesn't sell the Kobo Glo or other Kobo ereaders, but they have the black model and white model of the Aura HD (the brown one is missing), as well as the pink and black Aura.
It's good to see that Kobo is starting to sell their ereaders through Best Buy again because for the past couple of years they've been making it extremely difficult to buy their products in the United States, and if you wanted to try one out first in a store before buying you were pretty much out of luck entirely.
For the past couple of years the only way to get a Kobo ereader in the US was to try and find one from an independent bookstore, which wasn't easy. Then last April Kobo finally started selling their ereaders online from their website, but still some people have problems ordering from them. It's about time they found a halfway competent retailer in the US to sell from. But it's kind of weird timing. Six weeks ago before the busy holiday shopping season would have made more sense. Oh well, better late than never.