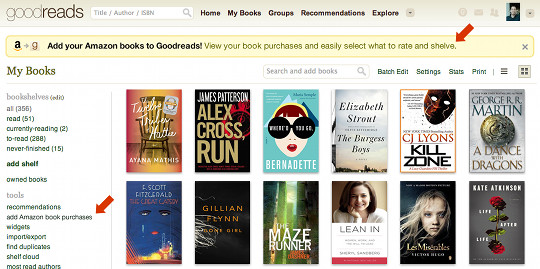 Last year when Amazon acquired Goodreads, an online book community where people review and discuss books as well as find new books to read, we knew it was just a matter of time before Amazon started making use of Goodreads' resources.
Amazon has already integrated Goodreads into their Kindle Paperwhite ebook readers and Kindle Fire tablets. Now Goodreads is getting even more Amazon friendly by giving its users the option to easily add any books purchased from Amazon to their Goodreads' shelves.
Both print books and Kindle ebooks purchased from Amazon get in on the action. Audiobooks are still left out, but maybe someday soon they will get their day too.
Goodreads is rolling out the new "Add Amazon Book" feature incrementally at first, so it might be a couple of weeks before you see the option.
Right now it's only being pushed out to select countries, the United States, Canada, and Australia. Goodreads says more countries will get added to the list soon.
Goodreads notes that having more books in your shelves leads to better recommendations from their "super-smart" algorithm-powered recommendations engine.
Here's how you know if Goodreads has enabled the feature for your account or not yet: Once enabled, you'll see an Add Amazon Book Purchases link in the Tools list on the left hand side of the My Books page, along with a small announcement at the top of the page (shown in the picture above). Click on either link and you'll be asked to sign in to your Amazon account. You'll then see your Amazon book purchases. You can go through and rate each book and select the appropriate shelf for it. Goodreads gives you full control over which books to add so you can avoid adding any books bought as gifts or anything potentially embarrassing. Any book not rated or added to a shelf will not be added to Goodreads.
If you live in the United States, Canada, or Australia, you can get early access to the Add Your Amazon Books option by clicking this link: