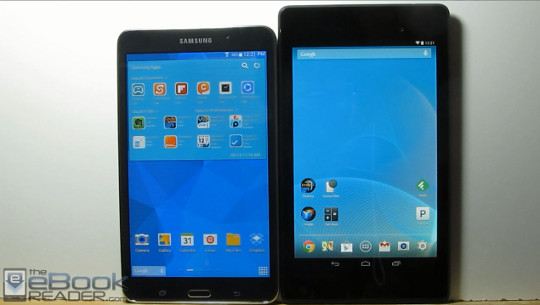 Last week I posted a review of the new 7-inch Samsung Galaxy Tab 4. One of its main competitors is the 2nd gen Nexus 7, so I wanted to put together this comparison review outlining the similarities and advantages for each.
Both are very similar yet very different Android tablets. The Nexus 7 has some hardware advantages. The screen being one of them, with over 100 more pixels per inch. I've already written about the Galaxy Tab 4 screen being better than I'd expected despite the lower resolution, but side-by-side with the Nexus 7 it's clear which one wins. In the video review below the extra brightness on the Nexus 7 really stands out. Both are set to at maximum.
Another thing you may notice in the video is how slow the Kindle for Samsung app is to launch. That's not a valid comparison for other apps on the Galaxy Tab 4; for whatever reason the Kindle for Samsung app is much slower to open than other apps.
Check out my full reviews of the Samsung Galaxy Tab 4 and Google Nexus 7 for more detailed information about each tablet and for a full list of specs.
Nexus 7 vs Samsung Galaxy Tab 4: Similarities
Both have 7-inch screens (there are larger models available but for this review I'm comparing the 7-inch models specifically).
Operating systems are both Android 4.4.2 KitKat, and come with Google Play access.
Bluetooth 4.0.
GPS.
3.5mm headphone jack, built in speakers, microphone.
Estimated battery life in the same 8-10 hour range.
Mostly same selection of apps and content.
Both have dual-band Wi-Fi.
Nexus 7 (2nd gen) Advantages
More internal storage space.
The touchscreen supports 10 points of contact at once; the Samsung Galaxy Tab 4 supports 5.
Micro USB port supports connecting peripherals such as keyboards.
Micro USB port with SlimPort (can connect an HDMI cable to stream content to a TV with a SlimPort adaptor).
NFC support (can transfer content by touching NFC-equipped devices together).
Wireless charging.
Better rear camera: 5MP for the Nexus 7, 3MP for the Galaxy Tab 4.
Faster processor.
Better screen with higher resolution, 1920 x 1200 vs 1280 x 800.
Slightly more RAM, 2GB vs 1.5GB.
Much higher benchmark scores: Quadrant – 5318 Nexus 7; 3621 Galaxy Tab 4; AnTuTu – 20534 Nexus 7; 12545 Galaxy Tab 4.
Samsung Galaxy Tab 4 Advantages
MicroSD card slot (the biggest advantage).
Custom software tweaks gives Samsung tablets a different feel than stock Android.
Run two applications at once side-by-side with Samsung's multitasking feature.
Retails for $30 less than the Nexus 7.
Physical home button and capacitive sensors instead of onscreen buttons taking up space.
Samsung Book Deals for free ebook per month via exclusive Kindle for Samsung app.
Smaller size and lighter overall weight makes it feel a little more comfortable to hold.
Built-in IR blaster to use the tablet as a universal remote control
Video Comparison: Samsung Galaxy Tab 4 vs Nexus 7