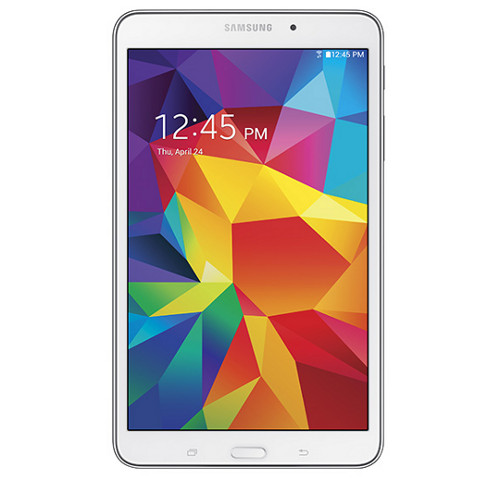 I picked up one of the new Samsung Galaxy Tab 4 tablets that Samsung just released (I'll post a full review soon), and I was surprised to find that the screen is a lot better than I expected from a tablet with lower screen resolution.
I read a review somewhere that said something along the lines that Samsung doesn't need to use higher resolution screens because the overall quality of their lower resolution screens is better than what most other tablet makers use anyway. I thought it was mostly b.s. but after seeing the Galaxy Tab 4's screen firsthand, I'd say that there's some truth to that statement.
There are three tablets in the Galaxy Tab 4 series, 7-inch, 8-inch, and 10.1-inch models. All have the same 1280 x 800 screen resolution, which is rather low compared to the tablets that Samsung's competitors are releasing.
I bought the 7-inch model. It has the highest pixel density of the bunch at 212 ppi. That's the same resolution as the 1st gen Nexus 7 from 2 years ago. The 2nd gen Nexus 7 has a 1920 x 1200 resolution screen (323 ppi), same goes for the 7-inch Kindle Fire HDX.
So when Samsung released the 7-inch Galaxy Tab 4 with a lower resolution 1280 x 800 screen for about the same price, we all thought they were crazy. But that's nothing new. Samsung always seems to release tablets with lower resolution screens than similarly priced tablets. That's the number one reason why I've never reviewed a Samsung tablet before. Coming from an e-reading perspective, higher resolution is always preferable for clearer, sharper text.
That still holds true, the 2nd gen Nexus 7 and Kindle Fire HDX are better at displaying small text clearer, but I'm not at all disappointed with the Galaxy Tab 4's display. There's no question that it is better than other 1280 x 800 screens that I've seen.
I compared the Galaxy Tab 4's screen side-by-side with the 1st gen Nexus 7 and Hisense Sero 7 Pro, all have the same exact resolution, and Samsung's screen is clearly superior. The color is better, and everything is clearer. The difference is more apparent on the less-expensive Sero 7's screen—it's noticeably fuzzier and colors are less bright.
The Galaxy Tab's screen displays colors really well, with wide viewing angles that maintain the color evenly. Text displays nice and clear, plus Samsung uses a customer launcher and custom menus with larger font that is noticeably clearer and sharper than stock Android—this alone makes a big difference.
The only real downside to the lower resolution screen is when viewing really small text. Comparing side-by-side with the Kindle Fire HDX and 2nd gen Nexus 7, it's most noticeable that those have sharper, clear text when viewing a web page fully zoomed out in portrait mode, or when using the second or third smallest font settings when reading an ebook. Otherwise everything looks about the same.
If you like reading full web pages at one time or use the smallest font settings when reading, then you should get a device with the highest resolution possible. Otherwise the Galaxy Tab 4's screen compares very well. Don't do what I did all this time and not get a Samsung Galaxy tablet based solely on the screen resolution—surprisingly, it really isn't very significant.
I wanted to include some pictures and a video illustrating the differences, but that's much harder to accomplish that you'd think—they just don't come out well enough to give an accurate representation. It's something that you need to see in person to fully gauge. So I'm afraid you're just going to have to take my word for it on this one. The good thing about Galaxy Tablets is they are usually easy to find on display in retail stores.