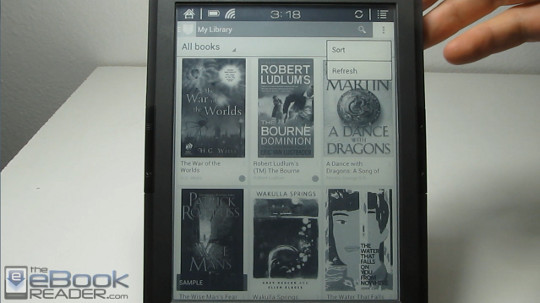 I've been testing a bunch of different Android reading apps on the Onyx Boox T68 Lynx.
The Play Books app is up for review this time around. At first the app seemed to work okay, but the more I use it the more it continues to crash.
Too bad because all the Play Books' features work, and the color scheme of the library and Google bookstore translate well to the E Ink screen: text is easily readable and everything displays properly.
The onscreen features work for looking up words in the dictionary, adding bookmarks, doing translations, adding notes and highlights, and viewing the map card popups. Font type is adjustable, so is font size, line height and text alignment.
But trying to use the TOC often crashes the app, and so does inverting the text to night mode. Selecting to view original pages is another sure way to get booted out of the app.
What's strange is the app seems to like some ebooks better than others. For whatever reason it hates the free copy of War of the Worlds. That book is really slow to load and crashes more frequently than other books.
Sometimes the Play Books app works well enough to use on the Boox T68 Lynx. But mostly it's a total crashing mess.
I'm finding the Lynx to be a finicky device. Some apps work well, and others cause it to become very buggy. I've experienced a lot of shutdowns and restarts, far too many. Sometimes the device gets stuck in a perpetual boot loop; the only way to stop it is to plug it into a charger. If these problems don't get worked out with a software update, and soon, the Lynx is going to get thrashed in reviews.
Onyx Boox T68 Play Books App Review