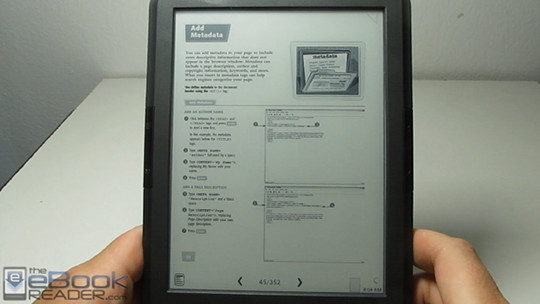 PDF is a popular format, and there's always a number of people that want to know how well E Ink ebook readers handle PDFs.
Tablets like the iPad are among the best options for PDFs, but there are some E Ink ebook readers that do a fair job. And since most people don't have $1200 to spend on the 13.3-inch Sony DPT-S1 PDF Reader, it falls on smaller E Ink ebook readers to fill the void.
Luckily the Onyx Boox T68 is a competent PDF reader, better than most. The built-in Onyx reading application has a good amount of features, and the software is stable enough for both small and large PDF files.
Plus the Boox T68 runs Android, so other PDF apps can be installed too. I tried the free Adobe reader app and it works quite well, so there multiple options for displaying PDFs on the Boox T68.
The built-in OnyxReader app offers a good amount of features, though, so installing a dedicated PDF app isn't really necessary.
The Onyx app offers various zooming options. You can fit the PDF page to width, to page, you can zoom in and out in increments, and use auto crop, which generally works well to minimize side margins. There's a custom cropping tool as well, but I have problems getting it to lineup properly. The app also offers PDF reflow; using the up and down buttons on the nav wheel adjusts font size.
Going into the font menu and selecting bold makes the PDF text appear much darker, similar to the contrast darken feature on the Kindle Paperwhite.
The PDF app also offers text-to-speech, dictionary lookup, search, table of contents, and the ability to add notes, highlights and bookmarks. There's even a scribble mode where you can write directly on the screen, although there doesn't appear to be a way to export it.
You can also rotate the PDF to view in landscape mode. Sometimes landscape mode acts kind of funny on the Boox T68, so I'm hesitant to use it very much, but it is an option.
Overall the OnyxReader PDF app works well, and loads quickly and smoothly, even with large 90MB image-heavy PDFs.
The video review below shows the PDF functions on the Onyx Boox T68 Lynx using the default reader app, along with a brief demo of the Adobe PDF Android app.
Onyx Boox T68 Lynx PDF Review