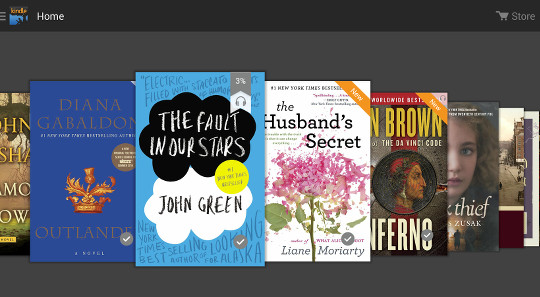 Amazon has issued another software update for their Kindle Android app today, version 4.6, and it adds a number of new features and enhancements.
Amazon has been busy improving their Android app this year. This is the second major update in the past two months, and the third in the past three months when they first introduced additional font choices.
The last update added audiobook integration for syncing ebooks and audiobooks together in one app. This new update adds to that feature by placing playback controls on the lock screen, and making it so the pages automatically turn without the screen shutting off.
There's also a host of other new features. Here's the full list from Amazon's Kindle forum:
We've improved the listening experience for books with audio:
* When you're listening from a Bluetooth device, playback will automatically pause if Bluetooth is disconnected. A new permission is required for this, "Pair with Bluetooth devices."
* Go hands-free with Immersion Reading; enjoy automatic page turns without the screen shutting off.

Helpful account information can be found on the Settings screen:
* Rename your device to make it easier to recognize when buying books from the Kindle store.
* Check your registration information, is the app registered to the correct email address?

Viewing options inside the book have been updated:
* "Use system brightness" is a more intuitive option for a brightness settings. Tap the "Aa" icon at the top of the screen to choose this new option. If you're not finding the "Aa" icon, tap the center of the screen to have the menu bars slide into view.
* When the menus are hidden (tap the center of the screen to show or hide them), tap the bottom right corner of the screen. Do you notice a small padlock? Tap it to lock the orientation. Now you can turn the device in any direction so you read on your side or back.

Improvements were made to the Table of Contents as well:
* A direct link to the book cover is at the top.
* "Front matter" is next. Funny name but this where you'll find the title, copyright, dedication and more. There's an arrow to the right of the label. Tap it to close the front matter section.
* If a book has page numbers we'll show them alongside the chapter names. The current page you're on will be highlighted.
* If another chapter is selected, you can always get back to your previous location by tapping one of the placeholders on the location seeker at the bottom.