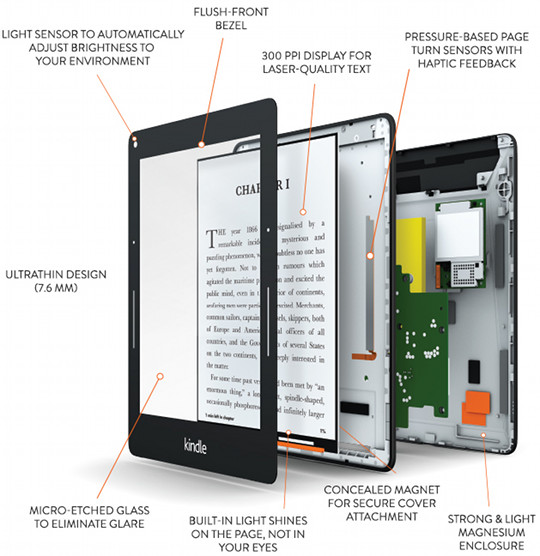 Yesterday I posted about the new software features that are coming with the new Kindle ebook readers and Fire tablets.
For the Kindle Voyage that includes the option to link accounts for family sharing, there's a new Word Wise feature to help make reading books with complicated words easier to understand, there's enhanced search, extra series and author info with "About a Book", and access to Kindle FreeTime Unlimited, a kid-friendly library.
For this article let's focus on the new hardware features for the Kindle Voyage. Since it doesn't get released until October 21st, all we have to go off of are the early video reviews and what's posted on the product description page at Amazon. Between the two we can get a pretty good idea of what to expect from the Kindle Voyage in terms of new features and overall design.
The Kindle Voyage marks a big change for Kindle ebook readers. The software will be the same as the Kindle Paperwhite and new entry-level Kindle Touch, but the hardware is completely new all the way around.
A few years ago, Kindles were all big slabs of plastic with goofy-looking keyboards and cumbersome 5-way nav controls. Now the Kindle Voyage brings a much more sophisticated and refined look. The screen and bezel are flush, the back panel is made from magnesium rather than plastic, instead of buttons it has fancy pressure-based page turn sensors with haptic feedback, there's a light sensor that automatically adjusts frontlight brightness, and it has the highest resolution screen of any E Ink ebook reader on the market.
The high resolution screen is one of the big selling points. All ebook readers used to come with the same 167 PPI screen. In fact that's what the new entry-level $79 Kindle uses. The Paperwhite falls in between at 212 PPI. Devices like the Kobo Aura H2O and Onyx Boox T68 have slightly larger 6.8-inch screens with 265 PPI. But the Kindle Voyage is the first ebook reader ever to feature a 300 PPI screen.
It's also the first ebook reader to use pressure sensitive page buttons with haptic feedback. All you have to do to turn a page is squeeze either side of the screen. There's a line to page forward and the dot to page back. The user manual reveals that you can adjust the pressure required to turn a page, or the feedback you receive when a page turns.
At 7.6 mm thick, the Kindle Voyage is the thinnest Kindle yet. By comparison, the Kindle Paperwhite is 9.1 mm thick. In fact the Kindle Voyage just might be the thinnest E Ink ebook reader ever, other than the Sony DPT-S1 PDF Reader, which uses a thinner plastic screen—Sony specs it at 9/32″, which equates to about 7.14 mm.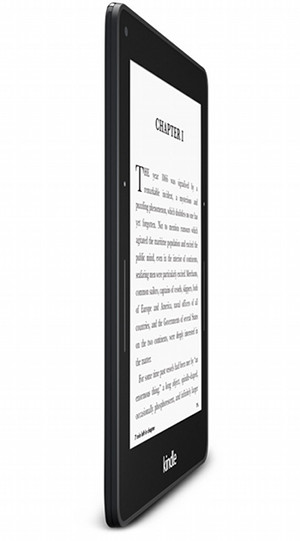 One downside with the Kindle Voyage when compared to the Kindle Paperwhite, it appears to have a smaller battery. Amazon states that the Paperwhite can get up to 8 weeks per charge when reading 30 minutes per day with wireless off, but the Kindle Voyage is only rated at up to six weeks. Amazon does not list any battery size specifications, however.
Kindle Voyage Hardware Features
300 PPI 6-inch E Ink Carta screen (1440 x 1080).
Pressure-based page turn sensors with haptic feedback (pressure can be adjusted in settings).
Screen flush with front bezel.
Micro-etched glass screen to eliminate glare.
Built-in adjustable frontlight.
Adaptive light sensor to automatically adjust brightness based on lighting conditions.
Magnesium enclosure.
Capacitive 2-point touchscreen.
4GB onboard storage.
1 GHz processor, 512MB RAM.
Wi-Fi 802.11 b/g/n; 3G optional.
Dimensions: 6.4″ x 4.5″ x 0.30″ (162 x 115 x 7.6 mm).
Weight: 6.3 ounces (180 grams).
Price: $199-$299 at Amazon.
Below is a video that Amazon just uploaded a couple of days ago for the Kindle Voyage. It doesn't show anything useful but it's pretty cool as far as ebook reader commercials go…
The New Kindle Voyage – Passionately Crafted for Readers