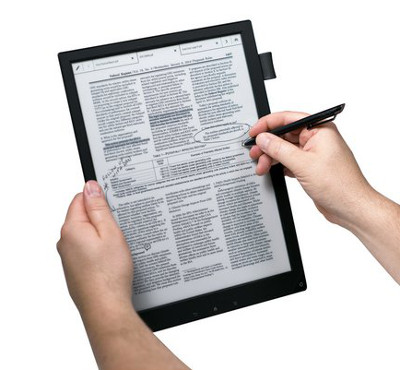 The most expensive E Ink ereader on the market recently became a little less expensive.
Sony has dropped the price of their DPT-S1 PDF Reader from $1100 to $999 on the Sony Store. It's not a big difference in price but at least it's progress in the right direction.
Sony started selling the DPT-S1 online from their website just a couple months ago. Before then it was only available through a few select retailers in the US, and most were only authorized to sell the DPT-S1 to select business professionals in the law and banking industries.
Now that anyone can buy one, the price is starting to come down some. Hopefully Sony continues to develop their PDF Readers since they've decided to stop making new Sony ebook readers. Maybe someday there will be a DPT-S2 for more like $500. Maybe…
Part of the reason the price is so high is the DPT-S1 is the only device currently available that uses a 13.3″ E Ink Mobius display. Newer technology is always more expensive, and Mobius displays use a plastic substrate so they are a lot more durable and lightweight than traditional glass displays.
The Sony DPT-S1 could have some competition in the near future, and that could help push down the price even more. PocketBook is planning to release the 13.3″ PocketBook CAD Reader at some point. A release date is unclear, but the CAD Reader is expected to have a Mobius screen and run Android 4.0.4. If they can pull that off it could be even better than Sony's device. But it has to actually get released first…