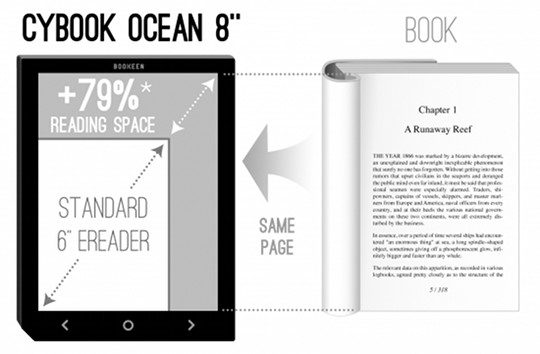 Bookeen, a French ebook reader company that has been making ereaders since 2003, announced a new lineup of devices for 2014 last week, with pre-orders starting in early November and shipments proceeding in mid-to-late November.
The new devices include a 6-inch Cybook Muse, available with and without a frontlight, and the better-late-than-never Cybook Ocean, an 8-inch ebook reader that has been delayed for over a year now.
The new devices sport an updated design with flush edge-to-edge screens, thin profiles, and they have an unusual notched lower left corner.
The interface has been updated as well with a new look and added features, and includes a new PDF mode and "ultra-optimized" Caecilia font.
Take a look…
Cybook Muse Specs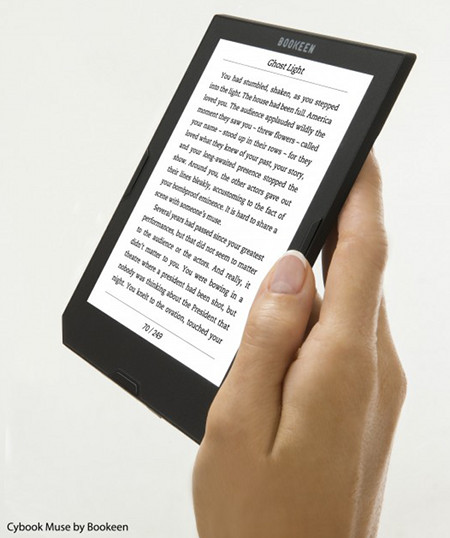 6-inch E Ink Pearl Display
1024 x 758 resolution (212 ppi)
Capacitive multi-touchscreen
4 GB internal memory
MicroSD card
Physical buttons
Wi-Fi
1 month battery life
20 brightness levels (Frontlight model)
Dimensions: 116 x 155 x 8 mm
Weight: 190 grams
Cybook Ocean Specs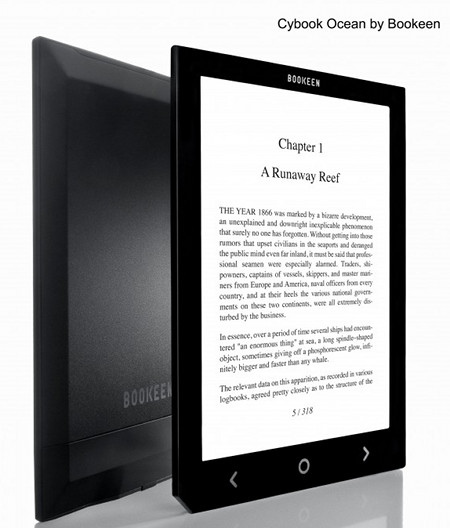 8-inch ePaper Display (not E Ink, made by a different company, like the Pyrus Mini I reviewed early last year)
1024 x 768 resolution (160 ppi)
Capacitive multi-touchscreen
4 GB internal memory
MicroSD card
800 MHz CPU, 128 RAM
Physical page buttons
Wi-Fi
1 month battery life (2100 mAh)
20 brightness levels
Custom OS based on Linux 2.6.31
Book Formats: ePub, PDF Adobe DRM, HTML, Txt, FB2, DJVU
Dimensions: 150 X 196 X 7mm
Weight: 300 grams
The Cybook Muse with Frontlight has a suggested retail price of 99 euros including VAT, and the Cybook Muse Essential (the one without a frontlight) is 79 euros including VAT.
For some reason Bookeen shows prices of 129 and 99 USD respectively, which is strange because Cybook ereaders aren't available in the US. Perhaps they're planning to sell in the US market for a change; the press release does mention FCC approval.
The suggested retail price of the Cybook Ocean is 179 euros including VAT ($229). Pre-orders start on November 5th, with deliveries expected to start on November 20th.
Cybook Muse Video