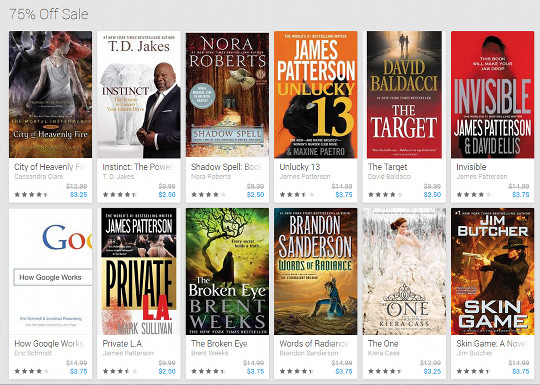 Google has a list of popular bestselling ebooks marked down by 75% for Black Friday and Cyber Monday weekend.
Like usual, Amazon is price-matching many of them over on the Kindle Store as well.
The books are all highly-rated bestselling titles, and the prices are considerably lower than usual, so there's no better time to stock up.
Don't forget that Kindle ebooks can be given as gifts as well.
Here's the complete list of titles that are on sale:
City of Heavenly Fire
Cassandra Clare
Instinct : The Power to Unleash Your Inborn Drive
T. D. Jakes
Shadow Spell : Book Two of The Cousins O'Dwyer Trilogy
Nora Roberts
Unlucky 13
James Patterson
The Target
David Baldacci
Invisible
James Patterson
How Google Works
Eric Schmidt
Private L.A.
James Patterson
The Broken Eye
Brent Weeks
Words of Radiance
Brandon Sanderson
The One
Kiera Cass
Skin Game : A Novel of the Dresden Files
Jim Butcher
Mr. Mercedes : A Novel
Stephen King
Top Secret Twenty-One : A Stephanie Plum Novel
Janet Evanovich
Finding Me : A Decade of Darkness, a Life Reclaimed: a Memoir of the Cleveland Kidnappings
Michelle Knight
Personal : A Jack Reacher Novel
Lee Child
World of Warcraft: War Crimes
Christie Golden
Flash Boys: A Wall Street Revolt
Michael Lewis
Blood Magick : Book Three of The Cousins O'Dwyer Trilogy
Nora Roberts
The King : A Novel of the Black Dagger Brotherhood
J.R. Ward
The Martian : A Novel
Andy Weir
Capital in the Twenty-First Century
Thomas Piketty
Written in My Own Heart's Blood : A Novel
Diana Gabaldon
Act Like a Success, Think Like a Success : Discovering Your Gift and the Way to Life's Riches
Steve Harvey
Heaven is for Real Movie Edition : A Little Boy's Astounding Story of His Trip to Heaven and Back
Todd Burpo
The Maze Runner Series Complete Collection (Maze Runner)
James Dashner
Wanted : A Most Wanted Novel
J. Kenner
10-Day Green Smoothie Cleanse : Lose Up to 15 Pounds in 10 Days!
JJ Smith
The Collector
Nora Roberts
The Book of Life : A Novel
Deborah Harkness
Field of Prey
John Sandford
Dark Wolf
Christine Feehan
Concealed in Death
J. D. Robb
Hollow City : The Second Novel of Miss Peregrine's Peculiar Children
Ransom Riggs
Letting Go
Maya Banks
Four: A Divergent Collection
Veronica Roth
Gray Mountain : A Novel
John Grisham
The Love Playbook : Rules for Love, Sex, and Happiness
La La Anthony
Act Like a Lady, Think Like a Man, Expanded Edition : What Men Really Think About Love, Relationships, Intimacy, and Commitment
Steve Harvey
Killing Patton : The Strange Death of World War II's Most Audacious General
Bill O'Reilly
Edge of Eternity : Book Three of The Century Trilogy
Ken Follett
Act of War : A Thriller
Brad Thor
Night Broken
Patricia Briggs
Duty : Memoirs of a Secretary at War
Robert M Gates
What If? : Serious Scientific Answers to Absurd Hypothetical Questions
Randall Munroe
The Undead Pool : Book 12
Kim Harrison
Deceiving Lies : A Novel
Molly McAdams
Be with Me : A Novel
J. Lynn
The Revenge of Seven
Pittacus Lore
Silver Shadows : A Bloodlines Novel
Richelle Mead
Maybe Someday
Colleen Hoover
The Invention of Wings : With Notes
Sue Monk Kidd
Giving In
Maya Banks
Halo: Mortal Dictata
Karen Traviss
A Shiver of Light
Laurell K. Hamilton
Bad for You
Abbi Glines
Nash : A Marked Men Novel
Jay Crownover
Fear Nothing : A Detective D.D. Warren Novel
Lisa Gardner
Night of the Hunter : Companions Codex, I
R.A. Salvatore
Missing You
Harlan Coben
The Walking Dead Vol. 20: All Out War: Part One
Robert Kirkman
Heated: A Most Wanted Novel
J. Kenner
Sweet Filthy Boy
Christina Lauren
Power Play: A Novel
Danielle Steel
The World of Ice & Fire: The Untold History of Westeros and the Game of Thrones
George R.R. Martin
Illusion: Chronicles of Nick
Sherrilyn Kenyon
Festive in Death
J. D. Robb
Think Like a Freak: The Authors of Freakonomics Offer to Retrain Your Brain
Steven D. Levitt
The Future of the Mind: The Scientific Quest to Understand, Enhance, and Empower the Mind
Michio Kaku
Best Kind of Broken
Chelsea Fine
Hard Choices
Hillary Rodham Clinton
Success Through Stillness: Meditation Made Simple
Russell Simmons
Little Girl Lost: A Lucy Black Thriller
Brian McGilloway
Deadline
John Sandford
The Chase: A Novel
Janet Evanovich
Rusty Nailed
Alice Clayton
After the Storm
Maya Banks
Beautiful Oblivion: A Novel
Jamie McGuire
Dark Blood
Christine Feehan
Saga, Vol. 3
Brian K. Vaughan
Severed Souls
Terry Goodkind
Cress
Marissa Meyer
Rome: A Marked Men Novel
Jay Crownover
Injustice: Gods Among Us Vol. 2
Tom Taylor
A Perfect Life: A Novel
Danielle Steel
Redeemed
P. C. Cast
Growing Up Duggar: It's All About Relationships
Jill Duggar
Killer: An Alex Delaware Novel
Jonathan Kellerman
The Witch with No Name
Kim Harrison
Dark Skye
Kresley Cole
Not That Kind of Girl: A Young Woman Tells You What She's "Learned"
Lena Dunham
I've Got You Under My Skin: A Novel
Mary Higgins Clark