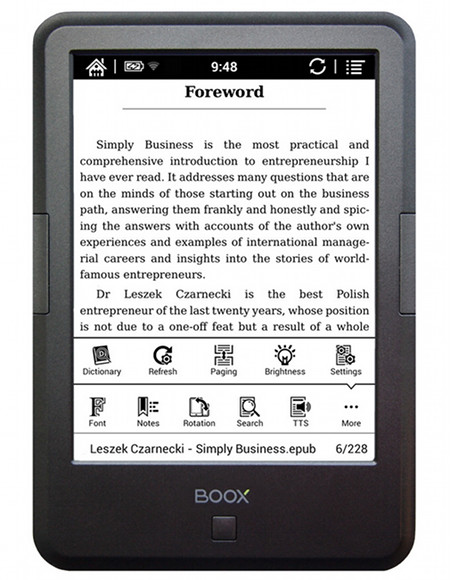 Back in November when Arta Tech first released the Onyx Boox AfterGlow 2, a 6-inch ebook reader with a frontlit HD E Ink screen and open Android 4.2, it was available exclusively from Onyx-Boox.com for 124 euros.
Now Arta Tech has made the AfterGlow 2 more accessible by listing it on Amazon.com for $129 with free shipping (it's also available on Amazon UK for £97).
That's a competitive price considering the amount of features the AfterGlow 2 offers. It's about the same price as the Kindle Paperwhite, and adds some extra features like audio support, text-to-speech, a memory card slot, page buttons, and support for Android apps.
The AfterGlow 2 has a 6-inch E Ink Pearl display with a resolution of 1024 x 758. It has a built-in frontlight and capacitive touchscreen. Under the hood the AfterGlow 2 features an upgraded dual-core processor that runs up to 1.2GHz, with 512MB of RAM and 4GB of internal storage space. The microSD card slot provides for further expansion up to 32GB.
One of the main things that separates the AfterGlow 2 from other ebook readers is the open Android operating system. It runs Android 4.2.2 and unlike its nearly identical Chinese-imported cousin, the Onyx Boox C67ML, the AfterGlow 2 comes with Google Play onboard to easily download and install Android apps.
I wasn't going to review the AfterGlow 2 because I already reviewed the Onyx Boox T68 and Onyx Boox M96, but now that it's available on Amazon I couldn't resist. It will be interesting to see how it compares to the T68 and M96. The T68 is known to have some issues but the M96 runs really well. The updated software and faster processor on the AfterGlow 2 should make it the best of the lot. Check back next week for an early review. On paper it looks pretty good for the price; I'll put it through some testing to see how it stands up.
Onyx Boox AfterGlow 2 Specs
6" inch E Ink Pearl display.
1024 x 758 pixel resolution (212 dpi).
Capacitive touchscreen (2-point).
Built-in frontlight (adjustable, can be turned on and off).
Android 4.2.2 OS with Google Play.
Processor: Dual-Core Cortex A9 1.2GHz.
512 MB RAM.
4GB internal storage space.
MicroSD card slot (up to 32GB).
MicroUSB 2.0.
3.5mm headphone jack.
Wi-Fi (802.11b/g/n).
Text-to-speech: IVONA™ (pre-installed with Polish and English voices).
Pre-installed apps: Internet Browser, Calculator, Calendar, Clock, Dictionary Tool, Downloads, Midiapolis Drive, Email, Gallery, Google Settings, Google Play™ Store, Music player, Midiapolis News Reader, OReader (a.k.a AlReader), and internal apps: OnyxReader, FBReader, Oreader, Onyx Neo Reader.
Supported formats: EPUB and PDF (reflow) with Adobe DRM (ADEPT), MOBI (without DRM), TXT, RTF, HTML, DOC, FB2, DjVu, ZIP; Audio: MP3, WAV; Images: JPG, BMP, PNG.
Battery: up to 8 weeks; 1700mAh Li-Polymer.
Dimensions: 170 x 117 x 8.7mm.
Weight: 184 grams.
Price: $129 on Amazon.com