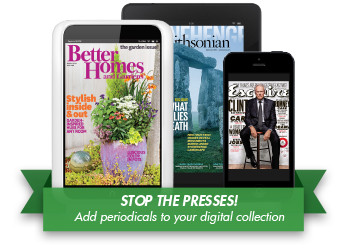 Early last October, OverDrive and Barnes & Noble's Nook Media announced a new partnership to bring digital magazines and newspapers to public libraries for lending.
That prospect has finally come to fruition as OverDrive officially announced today that periodicals are now available for libraries to purchase and add to their collections for lending to patrons.
OverDrive is offering over 1000 magazine and newspaper titles to their library partners in the United States and the United Kingdom.
The collection includes popular titles such as Glamour, Better Homes and Gardens, The New Yorker, Reader's Digest, WIRED, Bon Appétit and many others.
Being able to access digital magazines and newspapers through public libraries for free is a great resource, but there is one catch. The system isn't quite as open and user-friendly as borrowing ebooks and audiobooks using the OverDrive platform.
What makes periodicals different is that you have to use a Nook app to read and access the digital titles; you can't read the titles otherwise. This of course also means you have to setup a Nook account with Barnes & Noble, which requires a credit card.
Nook apps are available for the iPad and iPhone, as well as Android and Windows 8. Nook tablets are supported as well, but not E Ink Nook ereaders.
It will be interesting to see how the particulars work out with periodical lending. OverDrive doesn't yet specify anything about the number of titles that users can checkout at once, how long you can keep the titles before returning them, if back issues will be offered, etc.
Zinio has been offering a similar service for getting digital magazines through public libraries for the past year and a half. With Zinio you can download as many titles as you want, even back issues, and you never have to return them, which is pretty cool. Hopefully OverDrive's system is similar.
If your library starts carrying digital periodicals through OverDrive and you happen to test it out let us know how it works and what you think in the comments section below.
OverDrive Periodicals Video