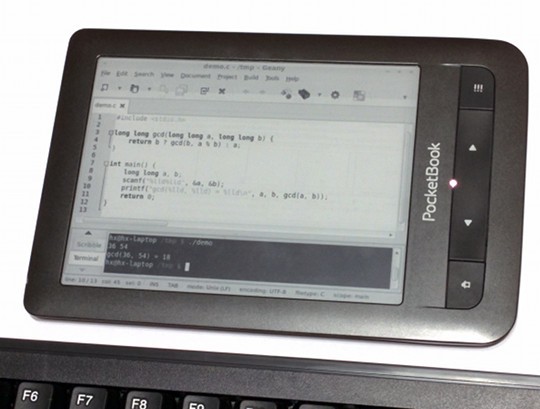 I came across an interesting post at MobileRead yesterday about someone who developed a program called RemoteInk that allows you to use a Pocketbook Pro or Pocketbook Touch as a computer monitor.
Right now the program only works with Linux and X-Windows systems (too bad or I'd give it a try). But there are a number of things the secondary E Ink screen can be used for.
Detailed installation instructions for RemoteInk can be found on github.
The project lists a number of features that you can make use of if you have a Linux setup and an ebook reader from the Pocketbook Pro or Touch line.
Among other things, you can connect the reader to a computer with Wi-Fi or USB, change screen orientation, select what part of the screen to zoom in on, track and switch between windows, adjust windows to fit the screen, invert screen color, create custom keyboard shortcuts, and more.
There has been a good amount of interest from people wanting an E Ink-type computer display. People have been using hacked Kindles as secondary computer screens for years.
There have been crowdfunding projects to create E Ink ereaders that can also be used as secondary computer monitors.
There's a new 13.3-inch E Ink monitor called PaperLike that was recently launched in China. It's a cool-looking setup that connects to a computer with a USB cable. The refresh rate has been optimized for E Ink and it looks impressive. Price and availability is a problem though.
Maybe someday a good affordable E Ink monitor will be a reality. In the meantime we're going to have to rely on programs like RemoteInk to make use of secondary E Ink displays.