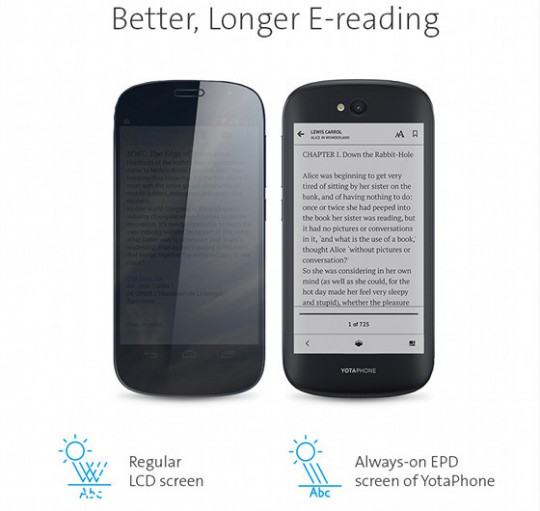 The Yotaphone 2 is offically headed to North America in a few months after being released in parts of Europe and Asia in December.
Yota is running an Indiegogo campaign to bring the Yotaphone to wider markets. For those that make a contribution in the first 48 hours of the campaign, by May 21st, you can reserve a Yotaphone 2 for $525 USD, plus shipping. Initially you could get one for $500 but that offer has already sold out. The next price tier is $550. It also comes with a free protective bumper case.
Yota is expected to start shipping the Yotaphone 2 to backers in early August 2015.
The phone has already been selling on eBay for awhile now for $639 to $999.
The Yotaphone 2 is the first dual-screen smartphone to hit the market. What separates it from a typical smartphone is the fact that it has an E Ink screen on one side of the device and an AMOLED display on the other side.
The secondary E Ink screen is designed to save battery power and to be easy to read under bright light. It can be used for everything from reading ebooks, rss feeds, emails, checking social networks, to making calls, displaying messages, maps, weather updates, photos and images. In fact you can navigate the Android OS entirely with the E Ink screen, just don't expect things like video and animations to work very well.
A number of widgets can be displayed on the E Ink screen too, including email, fitness, music, calendar, stocks, Twitter or you can set it up to cycle through images.
Right now Yota says that their on-device ebook partners include BookMate, MANTANO eReader and TXTR eReader. They say they are looking to add new partners for ereading as well.
Yotaphone 2 Specs
2.2GHz Qualcomm Snapdragon 801 processor.
Android 4.4 KitKat operating system.
Front Display: 5 inch, 1920 x 1080 pixel resolution AMOLED display (442 ppi).
Back Display: 4.7-inch E Ink 960×540 pixels (235 ppi).
Gorilla Glass 3.
2 GB RAM.
32 GB storage space.
8 MP rear camera with LED flash.
2.1 MP front camera.
Bluetooth 4.0.
Connectivity: WiFi, NFC, A-GPS + GLONASS.
2500 mAh battery with Qualcomm Quick Charge 2.0 Wireless Charging.
Dimensions: 144.9 x 69.4 x 8.95 mm; Weight: 145 grams.
The Yotaphone is unlocked and supports the following 3G/4G bands in North America: GSM/EGPRS 850, 900, 1800, 1900 MHz; WCDMA, DC HSDPA (rel. 8, cat. 24), HSUPA (rel. 7, cat 7) bands 1,2, 4, 5 and 8; LTE (rel. 9, cat 4) bands 2, 3, 4, 5, 7, 12 and 20.
YotaPhone 2 Video Review
via: Liliputing