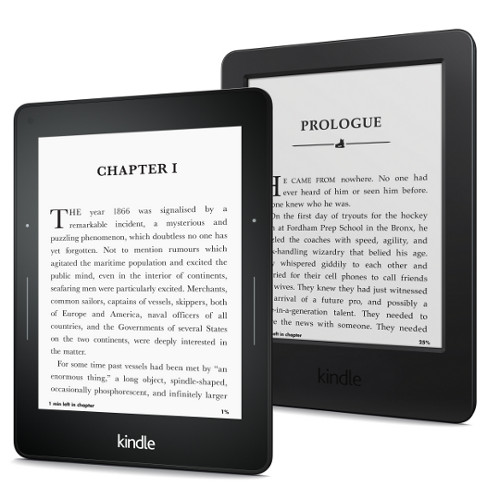 Yesterday Amazon unveiled a new Kindle Paperwhite with a 300 ppi E Ink screen. It's a little out of character for Amazon to release a new Kindle this early in the year but not unprecedented.
Besides, the Paperwhite 3 is just getting an upgraded screen, (and double the RAM, according to reports) so it's not the same as releasing an entirely new Kindle. But it's fairly safe to assume the Paperwhite 3 is going to be around for awhile.
That only leaves the Kindle Voyage and entry-level Kindle as possible devices that could get updated to a newer model this fall when Amazon typically releases new Kindles (along with Fire tablets, of course, but that's a different topic).
Amazon could also come out with an entirely new Kindle, but that's unlikely. About the only new model they could come out with would be something with a larger screen, and Amazon has already shown that they have little interest in pursuing that market by discontinuing the Kindle DX, twice.
And if there were plans for an entirely new Kindle, we would've likely heard about it by now in the form of various leaks, like what happened with the Kindle Voyage (I'm convinced Amazon "leaks" early details on purpose to gauge and gain consumer interest).
The most likely scenario for 2015 is the release of a new Kindle Voyage with a couple of upgrades to help justify the large price gap between it and the 300 ppi Kindle Paperwhite. First generation devices often benefit from some changes, and the Voyage is no exception. The frontlight could be better, for instance, the various hues have been one of the biggest complaints. Perhaps Amazon will opt to turn the Voyage into a 6.8-inch ereader to make the $199 price work (they're going to have to do something because not many people are going to spend $80 more on a Voyage now that the Paperwhite has the same screen).
It's hard to say if Amazon will keep the current entry-level Kindle as is or if they will change it. The entry-level models often stick around for a couple years before being changed. But the $79 Kindle could definitely use a new design, as noted in my review. The cheap plasticky frame isn't nearly as appealing as other Kindles, even some older models. And a lot of people would be happy to see page buttons return.
Either way, there's bound to be at least one new Kindle released this fall. What kind of new Kindle would you like to see in 2015?