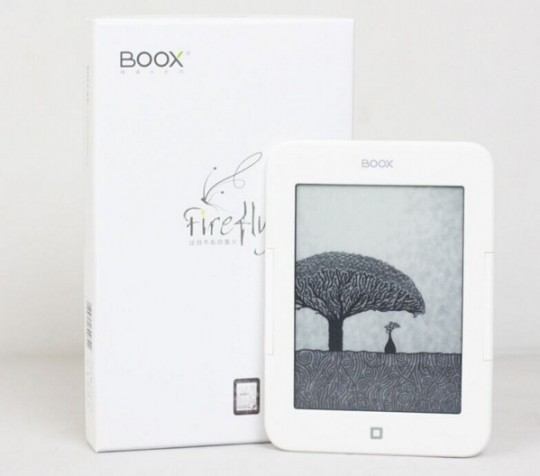 Onyx has a number of Android-powered E Ink ebook readers available in various markets. They come in a wide range of sizes and variations, from the 6-inch Boox C67ML to the 9.7-inch Onyx M96, with 6.8-inch and 8-inch models in between (they're also working on a 13.3-inch ereader for 2016).
Another Onyx model has recently become available from Chinese wholesale websites. Banggood just started selling the Onyx Boox i67.
It's not a new ereader exactly. But it's quite cheap at $82.56 and it runs Android 4.2.2. and can install Android apps
Basically it seems like a watered-down version of the Onyx C67ML, with a lower resolution screen and no frontlight.
On the surface it looks exactly like the Onyx Boox i62 from last year. The casing is the same and the dimensions are identical. The specs are nearly identical as well, but the i67 runs a newer version of Android. The older model ran Android 2.3, and there's not much that can be done with that.
The i67 has a 6-inch 800 x 600 resolution E Ink Pearl screen, 4GB of storage space, a 1.2GHz processor, Wi-Fi, a memory card slot, an infrared touchscreen, and it supports audio with its 3.5mm headphone jack.
It has an older E Ink screen and no frontlight so it falls into the same category as the entry-level Kindle and Kobo Touch 2.0, both of which have the same exact screen. The resolution isn't great but at least it's good to have another option in the low end budget category.
Onyx Boox i67 Specs
6" inch E Ink Pearl display.
800 x 600 pixel resolution (167 ppi).
Infrared touchscreen.
Android 4.2.2 OS.
Processor: Dual-Core Cortex A9 1.2GHz.
512 MB RAM.
4GB internal storage space.
Memory card slot (up to 32GB).
MicroUSB 2.0.
3.5mm headphone jack.
Wi-Fi 802.11 b/g.
Battery: 1800mAh Li-Polymer.
Dimensions: 171 x 125 x 10.9mm.
Weight: 210 grams.