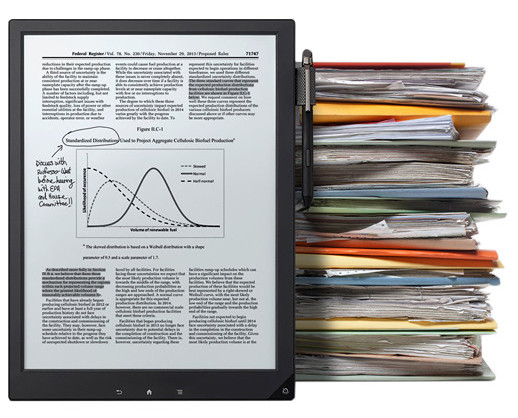 Awhile back Sony stopped selling their specialized $799 E Ink PDF Reader from their website. The device is still listed but the description says that it's only available from select partners.
The only partner listed is B&H Photo Video, so that appears to be the only place to buy the DPT-S1 now, aside from the overpriced listings on the likes of Amazon and eBay.
B&H sells the DPT-S1 for $799, the same price as Sony. It first started out at $1100 when it first arrived to the U.S.
One of thing to note about this change in distribution is that B&H sells internationally.
Sony would only ship it to U.S. addresses from their website, so at least now it's more easily accessible to those that want to get it, even if the price still remains too high for most people to consider.
The 13.3-inch E Ink display is what drives the cost so high. It's a rare size with limited production. Not only is the display really large, it's also flexible and super light, so it's a lot more specialized than regular E Ink screens on Kindles and Kobos.
Hopefully prices on 13.3-inch E Ink displays will come down as more companies start producing ereaders that use them. Onyx is planning on releasing a 13.3-inch E Ink reader with Android in 2016, and a number of other companies are trying to implement 13.3-inch screen as well, like this Netronix prototype, but so far getting them to the market has been unsuccessful.
The Sony DPT-S1 remains the only 13.3-inch E Ink device available to purchase anywhere.