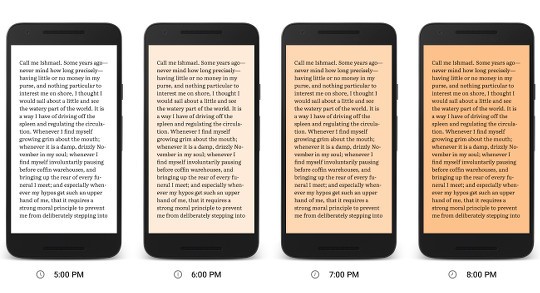 Last week Amazon started rolling out a software update for Fire tablets that adds a new Blue Shade feature that filters blue light, and now Google is jumping on the anti blue light bandwagon too.
Yesterday Google announced the addition of a new feature for the Google Play Books app called Night Light, which gradually filters blue light based on the time of day.
Google's stats show a spike in reading activity between 8 and 10 pm, so they wanted to release the Night Light feature to help make night reading on tablets and phones more pleasant and comfortable.
The Night Light feature filters blue light and replaces it with warm amber light. They claim that the color adjustment is easier on the eyes and it greatly improves low-light night reading.
The gradual auto-adjusting nature of the Night Light feature is a bit more sophisticated than Amazon's Blue Shade, which leaves it up to the user to adjust color and brightness. However, Amazon's blue light filter works system wide across all apps, whereas Night Light only works with the Play Books app.
Blue light blockers aren't new—a lot of people have been using the Twilight app on Android to block blue light—but the concept is going much more mainstream lately.
Personally I've never had a problem with blue light. It's the fact that the lowest brightness setting is too bright that bothers me. I've always used a screen filter app to lower brightness, and that works great without having some weird color layer over the screen.
The Night Light feature is rolling out to Android and iOS devices now, so check your device for the update. The feature can be turned on and off from the font adjustment menu.