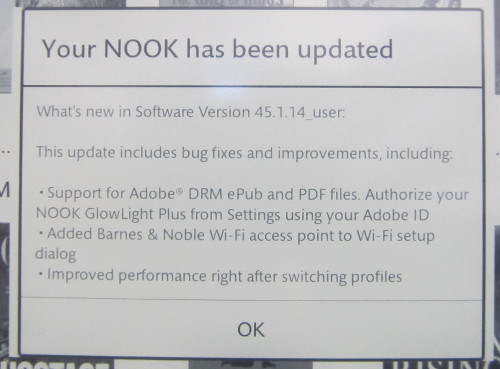 The Nook Glowlight Plus was released in October 2015, but it turns out the folks at Barnes and Noble forgot to add Adobe DRM support to this model when it was first launched.
It's taken a couple of months and now the Nook Glowlight Plus finally has Adobe DRM support. Or at least that's the theory; some people say it works at first but then they have problems after awhile.
I can't test it personally because I gave up on dealing with the train wreck that is Adobe DRM a long time ago.
Their DRM scheme doesn't even work so all they are doing is making a bunch of money for doing nothing but creating a huge hassle for ebook customers.
Nonetheless, B&N has started rolling out a software update for their new Nook that supposedly adds Adobe DRM support, so the Nook can finally display ebooks from libraries. The new software version is 4.5.1.43 or 45.1.14_user (who knows why they give two numbers, but this is B&N we're talking about).
At first my Nook wouldn't update. It's been saying there's a software update for a couple weeks and it would start to download it but then it wouldn't install. Finally it worked; the picture is proof.
However, B&N still hasn't updated the software updates page for the Nook Glowlight Plus to reflect the new software. They only list the first update from back in October. But they did put up a new section in the FAQ for Adobe DRM support. It explains how to authorize your Nook, which takes like tens steps alone (thanks a lot DRM), then it might work or it might not.
There are a couple of reports of it working initially but then not working after awhile at Mobileread, so it's hard telling if it really works or not…
One thing is clear: the Glowlight Plus doesn't work with Adobe Digital Editions like previous Nooks. It even says so on the FAQ page:
You do not need Adobe® Digital Editions to transfer an ePub or PDF file to your device. You can directly copy & paste or drag & drop the file from the folder My Digital Editions in your file explorer (or Finder on Mac) on your computer. The NOOK GlowLight Plus will not be recognized by Adobe Digital Editions. Your device has built-in support for Adobe DRM.
See B&N's Adobe DRM FAQ for more details.