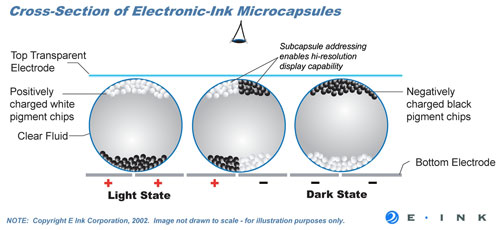 This time of year I usually post a video from CES showing E Ink's booth full of new ereading products and prototypes sporting E Ink displays.
However, E Ink's focus has gone farther and farther away from ereaders over the past few years.
This year I haven't seen a single video from CES showing anything remotely interesting or new from E Ink in regards to ereader displays.
All they want to talk about anymore is digital signs, and things like luggage tags and gimmicky watches.
Kindle and other ereaders made E Ink famous. If not for ereaders, no one would know about electronic paper and E Ink the company probably wouldn't even exist.
Now it's gotten to the point where it feels like E Ink is taking ereader displays for granted. They've put them on the back shelf and barely even mention them anymore.
Technological updates can be considered marginal at best, and take years to get released on the market.
You have to wonder if it's gotten to the point where E Ink ereader screens have reached their peak. Technology can only be advanced so far. Maybe the limitations of E Ink technology itself prevent any further improvements.
Color E Ink screens for ereaders came and went. E Ink tried them and failed miserably because of low contrast and poor color quality. Color E Ink has been at a complete standstill for three years. E Ink Triton 2 surfaced in early 2013, and then we never heard about color E Ink again…
E Ink has been trying to get their products into other markets for as long as they've been in business but nothing ever seems to really take off.
The biggest problem usually comes down to price. E Ink is a very expensive display technology compared to LCD, and there's the fact that it's not as clear or bright as LCD without some form of external lighting.
The only thing more troubling than the lack of developments in the E Ink ereader field in recent years is E Ink's apparent disinterest in even showing off new ereader displays or prototypes anymore.
Thanks to a lack of competition, E Ink doesn't have to care as long as they've got Amazon buying screens for Kindles. Lots of people have been hoping for a color E Ink Kindle for years, but it doesn't look like that's ever going to happen.