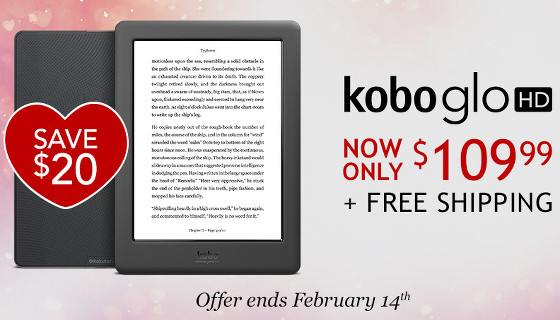 The Kobo Glo HD is on sale this week through Valentine's day, February 14th.
It's marked down by $20 at Kobo.com and Chapters.Indigo, taking the price from $129 down to $109.
If ordering from the US, it's usually cheaper to get Kobo ereaders from Indigo because they charge in Canadian dollars instead of USD.
Even with having to pay shipping it's cheaper than ordering from Kobo with free shipping at the current exchange rate.
Indigo usually gives a long estimated delivery date but their shipping is actually really fast (faster than Kobo).
When I ordered the Glo HD from them it arrived in under a week. See this earlier article for more details: Tips for Buying Kobo eReaders in the US.
The Kobo Glo HD and Kindle Paperwhite 3 are two of the best ebook readers currently on the market and both are on sale this week. The Paperwhite 3 is $99 but it has ads at that price, so it's really $119 without ads. Both are really good ereaders but each has some advantages and disadvantages when compared together: Kobo Glo HD vs Kindle Paperwhite 3.