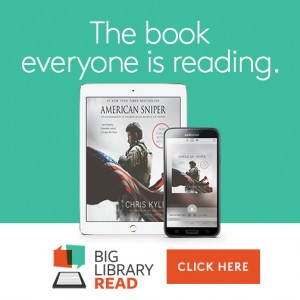 OverDrive has another "Big Library Read" going on from now until the end of March where you can download the ebook and/or audiobook of the #1 New York Times bestseller American Sniper by Chris Kyle.
The Big Library Read allows you to borrow the ebook and audiobook from your public library without any wait lists or holds.
Over 21,000 libraries around the world support the program so if you've never used OverDrive before to borrow free ebooks and audiobooks from your local libraries now is a good time to start.
OverDrive has apps that work with pretty much any tablet or computer. Plus any dedicated E Ink ereader that supports Adobe DRM can load ebooks from public libraries.
Plus Kindles are supported by OverDrive in the US. You can even have the ebook automatically delivered to your Kindle over wireless without having to use a computer to transfer.
The Big Library Read is intended to create a global book club of sorts, where a particular title is available in unlimited quantities to libraries for two weeks, and readers all over the world can be reading the same book at the same time and share thoughts and opinions on OverDrive's discussion page.
Here's the description of American Sniper:
The #1 New York Times bestselling memoir of U.S. Navy Seal Chris Kyle, and the source for Clint Eastwood's blockbuster movie which was nominated for six academy awards, including best picture.

From 1999 to 2009, U.S. Navy SEAL Chris Kyle recorded the most career sniper kills in United States military history. His fellow American warriors, whom he protected with deadly precision from rooftops and stealth positions during the Iraq War, called him "The Legend"; meanwhile, the enemy feared him so much they named him al-Shaitan ("the devil") and placed a bounty on his head. Kyle, who was tragically killed in 2013, writes honestly about the pain of war—including the deaths of two close SEAL teammates—and in moving first-person passages throughout, his wife, Taya, speaks openly about the strains of war on their family, as well as on Chris. Gripping and unforgettable, Kyle's masterful account of his extraordinary battlefield experiences ranks as one of the great war memoirs of all time.