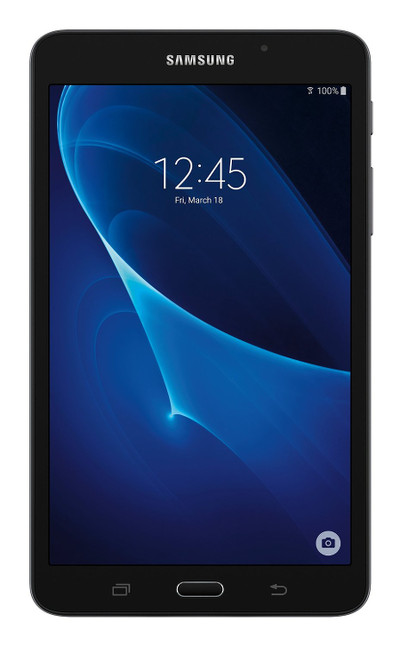 Samsung has just released a new 7-inch Android tablet called the Samsung Galaxy Tab A 7. It's a new 2016 version of their A series tablets.
The Tab A 7 is basically a newer version of the Galaxy Tab 4 that I reviewed back in 2014. The Galaxy Tab A has a slightly faster processor, more RAM and some other upgrades but is otherwise very similar to the Tab 4.
One difference is the price. When the Tab 4 was released it sold for $199 (now 2 years later it usually goes for under $150).
By comparison they've managed to cut the retail price of the Samsung Galaxy Tab A 7 by 25%, taking it down to $149 at Amazon, so after awhile once it starts going on sale it will be really cheap.
As far as specs are concerned, it has a 7-inch 1280 x 800 resolution screen. It's powered by a quad-core 1.3 GHz Spreadtrum SC8830 processor with a Mali-400 GPU. It comes with 8GB of internal storage space and it has 1.5GB of RAM. It also has a microSD card slot with super high capacity all the way up to an impressive 200GB.
Other specs include a 2MP front camera, a 5MP rear camera, Wi-Fi, Bluetooth 4.0, GPS, 3.5 mm headphone jack, stereo speakers, and it has a 4000 mAh battery capacity that can provide up to 9 hours of battery life. The tablet measure 4.27 x 0.34 x 7.35 inches and it weighs 9.8 ounces (about 278 grams).
In terms of software, the 7-inch Galaxy Tab A runs Android 5.1 Lollipop at launch. However, Samsung is expected to release updates to Android 6.0 Marshmallow for their larger Galaxy Tab A tablets soon, so hopefully this new 7-inch model will be getting updated at some point as well.
Update: Samsung also just released another new 7-inch tablet called the Samsung Galaxy Tab E Lite. It sells for $119.