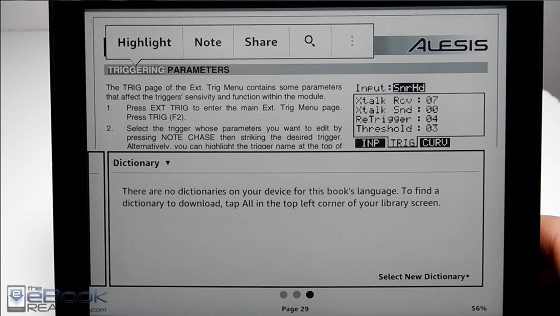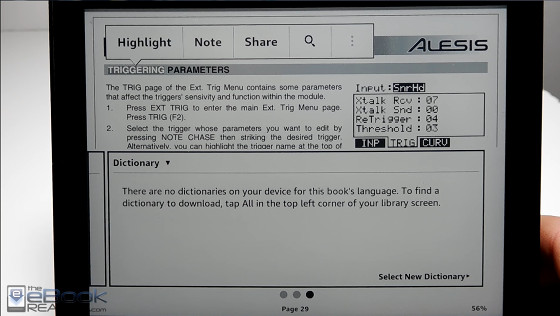 People are always asking if Kindles are good for reading PDFs so I went ahead and put together a video review showing how the Kindle Oasis handles PDF files.
The features for PDFs are still the exact same as they are on the other current Kindle models, so nothing has changed from the Kindle Voyage and Kindle Paperwhite 3 PDF reviews. Amazon hasn't improved the PDF features on Kindles in a long time.
I used to tell people not to buy Kindles for any kind of extensive PDF reading, that large-screen tablets are much better suited for the task, but I've since changed my opinion on that.
Ever since they started using the high resolution 300 ppi screens the smaller text on PDFs is clearer and easier to read than it used to be, provided you don't have any vision problems, of course.
Now I actually use Kindles to read PDF manuals all the time. The key is switching over to landscape mode.
The Kindle Oasis works especially well for that with its unique tapered design that fits nicely in your hand in landscape mode with a thumb resting on a page button.
Portrait modes works okay for some PDFs. Like if you have a two column PDF you can double-tap to zoom in on one column, so the text scales up quite a bit larger that way.
Two column PDFs work well with the double-tap zoom method as long as there isn't any variation in the text size or images at the start of a new column, in which case the auto-zoom gets confused and messes up the zoom level.
When it comes to PDFs on the Kindle, there aren't as many features available as there are with ebooks. There's no page scan feature when you swipe up from the bottom of the screen and there's no preview window for bookmarks.
But most of the usual ereading features work, such as looking up words in the dictionary, referencing Wikipedia, adding highlights and notes, sharing on Facebook and Twitter, running searches, and instant translations.
There's a table of contents for navigation, where you can also enter specific page numbers to jump to, tap on hyperlinks, and use the back button to take you back to the pages that you were on previously.
From the text adjustment window you can adjust the contrast of the text to make it darker, which is a nice option to have. There's also a couple of pointless margin settings that make the margins larger instead of smaller.
If Amazon would just add the option to reduce margins and add some extra zooming options Kindles could be really nice PDF readers. Onyx's ereaders, for example, have a bunch of extra zooming options and margin-cropping features.
With the Kindle Oasis there are two ways to zoom in on PDFs. You can use the double-tap option mentioned above, which is only good if there are no variations in the text, otherwise words get cut off because the auto-zoom isn't very good at determining width variances.
Pinch-zooming works pretty well to get a custom zoom level, and scrolling around the screen is fairly smooth, but the problem with pinch-zooming is that you can't turn pages with it active. Turning the page will make it automatically zoom back out, so you have to reset it with every single page.
There are a couple of different ways to load PDFs onto the Kindle Oasis. You can use the old school USB transfer method from a computer or you can email them or use one of Amazon's Send to Kindle apps to wirelessly deliver PDFs to your Kindle, which also adds syncing to access the files from other apps and devices like regular Kindle books.
Unlike most ereaders and apps Kindles don't offer PDF reflow, but for regular text-based PDFs you can use Amazon's Kindle conversion service to automatically convert them into a Kindle-formatted book, which does the same thing as reflow, and it adds the extra features that are available for ebooks.
Overall the Kindle Oasis isn't a bad PDF reader. I actually think it works quite well to read PDF manuals and the like. The small screen size is the biggest limitation. If you want a hardcore PDF reader for every day use, one that you can write notes directly on the screen, you're better off getting something designed for that, like the new 9.7-inch Onyx Boox N96 models, and even better the 13.3-inch Onyx Boox Max.
Kindle Oasis PDF Video Review