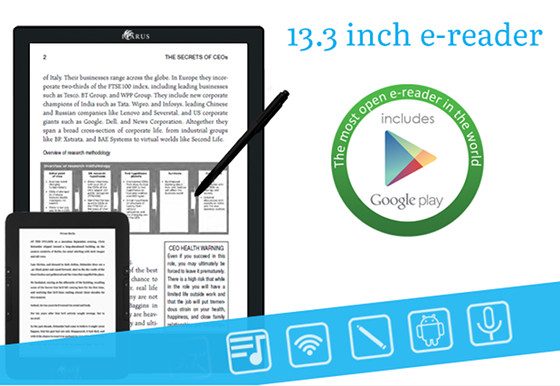 Icarus has launched a crowd-funding campaign on Indiegogo for their new 13.3-inch Icarus A4 Android ereader. It's a rebranded Onyx Boox Max, so both are mostly the exact same aside from the branding and a few tweaks here and there.
Here's the link to the page for Icarus's 13.3″ ereader. The funding goal is $25,000. They shouldn't have any problem surpassing that mark in 2 months time.
The price for the device is set at $699 USD, plus shipping.
There's also an upgraded package that adds a 6-inch Icarus ereader for $759, plus shipping. Or you can pledge $10 if you like giving money away.
The 13.3-inch Icarus ereader is expected to start shipping in July, which is a bit later than some of the other retailers for the Onyx Boox Max.
Pre-orders for the Max are expected to ship later this month from the new seller on Amazon. Plus the price is only $650, with $3.15 for shipping, and it comes with a memory card and some other bonus items. However, the seller is brand new and has zero feedback.
Icarus on the other hand is a well-established company in the ereader industry. They've been selling ereaders since 2009, and they already delivered on a similar crowd-funding campaign last year for their 8-inch Icarus Illumina XL ereader.
It's good to see more retailers starting to sell Onyx's new 13.3-inch ereader either way. Hopefully it's on its way to carving out a niche in the market.
Below is a video demo uploaded by Icarus on YouTube showing their 13.3-inch ereader. Check the updates tap of the description page for more video demos.
Video: Icarus 13.3″ Android eReader