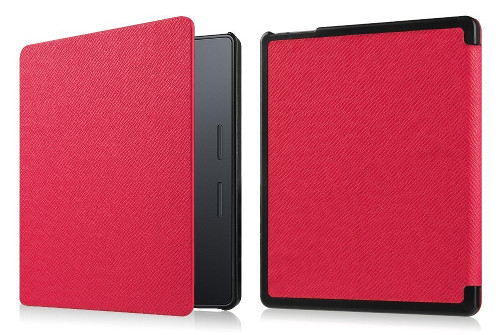 A number of cases and covers for the Kindle Oasis are starting to crop up online from third-party manufacturers.
Considering the fact that the Kindle Oasis comes with its own special charging cover, one with a built-in battery designed specifically for the Kindle Oasis, you have to wonder what's the point of these third-party covers?
None of them have built-in batteries so the Oasis would have to be recharged after every few hours of reading.
That kind of defeats the purpose of spending a small fortune on the Kindle Oasis to begin with.
I can understand using a sleeve or traveling style case to add more protection with the existing cover still in use, but getting a case to outright replace the charging cover makes no sense.
Yet there are a number of cases already on the market that do just that, like the Fintie covers. They have a "leather" folio case that covers the entire ereader except the buttons and the screen. It adds a bunch of bulk and weight so once that completely defeats the purpose of getting the Kindle Oasis in the first place.
I've yet to find any third-party covers that include an external battery to help charge the Kindle Oasis's small battery, and I wouldn't be surprised if that never changes. It's such a unique design that Amazon probably has a patent on it, and it could potentially become a liability for them if companies used inferior batteries and low quality materials, which is par for the course when it comes to cheap covers.
Even if I don't understand their purpose, here's a list of covers and cases for the Kindle Oasis. Most of them are rather inexpensive, from $5 – $15.
Kindle Oasis Covers List
Fintie Premium PU Leather Cover – Available in five colors and three designs.
Fintie Book Style Premium Vegan Leather Folio Cover – Available in five colors and three designs.
i-UniK Premium Slim Cover – Available in eight different colors and designs.
Ceocase Cover Pouch Sleeve – A sleeve-style cover that comes in eight different colors.
ACdream Protective Premium PU Vegan Leather Cover – Comes in seven different color choices.
Custom Sleeves and Cases at Etsy – There are bunch of different cases and sleeves available from Etsy that will work with the Kindle Oasis even though the aren't specifically designed for it.
Wallet Flip Leather Case – One of many generic covers on eBay from China, available in nine colors.
Magnetic Flip Stand Smart Cover – Another generic cover on eBay that ships from China for under $5, available in five colors.
Luxury Slim PU Leather Protective Cover – A leather style slip case available in brown, black, and coffee.
Luxury Leather Slim Protective Cover – Another generic sleeve cover on eBay but it ships from the US, available in black and blue.