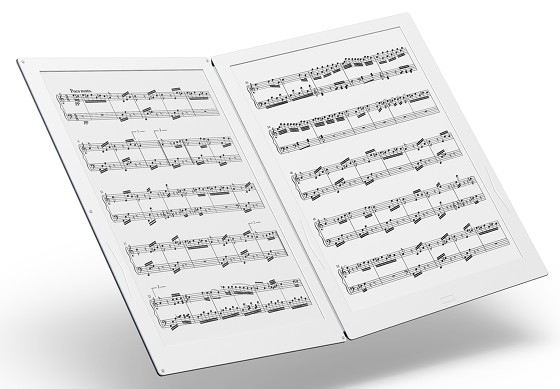 There are a lot of forms of ereading, more than most people realize. A Japanese company, Terrada, has a new specialized epaper product under development designed for reading sheet music.
The device is called the Gvido. It's a dual-screen ereader with two E Ink Mobius screens (wow, that's going to be expensive!).
E Ink issued a press release about it earlier this month and a Japanese website posted some hands-on pictures from a music convention.
The pictures are interesting because they show the Gvido next to paper sheet music and it's surprising how much better the contrast is on real paper.
The device supports PDF format and it will have an onboard store to purchase sheet music from electronic music score companies.
The Gvido has two 13.3-inch 1200 x 1600 resolution E Ink Mobius screens, an electostatic touch switch, and it has Wacom touch screen support for adding notes with a stylus. The onboard storage space is 8GB and there's a microSD card slot for expansion.
It supports Wi-Fi and Bluetooth 4.0 (to connect a foot pedal to turn pages, for example). The overall weight is only 650 grams and the measurements are 480 x 310 x 5.6 mm.
There's no word on a release date or pricing yet but you can check out the Gvido website for more details.
Introducing GVIDO