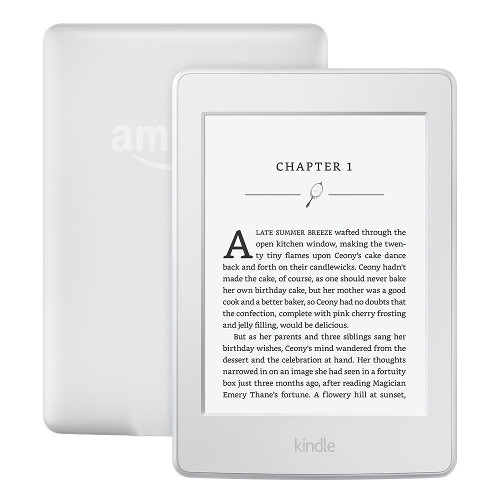 Yesterday Amazon announced a new entry-level Kindle, the 8th generation model, that gets released two weeks from today on July 7th.
It's thinner and lighter than the previous Kindle, and it comes with Bluetooth to connect speakers and headphone to use the VoiceView and text-to-speech accessibility features that were recently introduced with the release of the Kindle Audio Adapter.
The hardware specs are mostly the same as before, but it has a new design and it's now available in white in addition to black.
At the same time Amazon has started offering a white version of the Kindle Paperwhite 3 that gets released on June 30th.
It's been a long time since there's been a white Kindle; the 1st and 2nd generation models were both white, but then Amazon switched to using darker colors instead.
There's an optical illusion that makes it appear as if text is darker when it is surrounded by a black border, so I think that's part of the reason. But a white border can disappear or blend into the screen background color as well so it goes both ways.
It's amazing how eyes can see things in different ways; the same identical E Ink screens can look different just by changing the color that surrounds them. Like the picture below, both A and B squares are the same exact color but they sure don't look like it.
The funny thing is Amazon started selling white versions of the previous Kindle in parts of Asia and Europe over a year ago.
Why did it take Amazon so long to release them in the US?
Either way, whatever your preference is, it's good to have more choices. I decided to get the white version of the new Kindle to review because I thought it would be interesting to see how the lighter color compares.
The white will naturally show dirt and grime more but maybe it won't show fingerprint smudges as much as black.
So who else is getting a white Kindle? I wonder which color will end up being more popular. Right now the white version is trailing the black by 14 spots on Amazon's best sellers list for electronics.