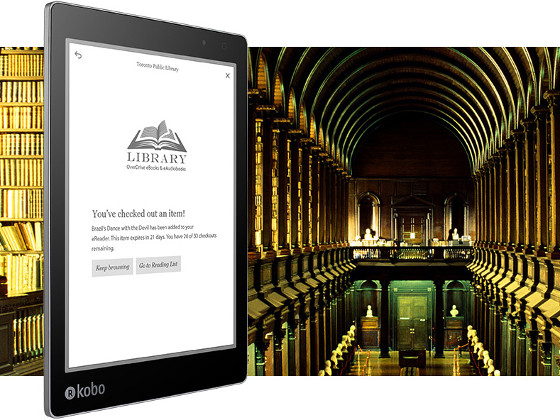 When Kobo's parent company, Rakuten, purchased OverDrive last year it seemed like an obvious move for them to add OverDrive support directly to Kobo ereaders like Sony used to have on their ebook readers before they quit making them.
After a year and a half of waiting, built-in OverDrive support has finally come to fruition on the Kobo Aura One.
However, the way things are looking right now the Kobo Aura One might be the only Kobo ereader to get built-in OverDrive support.
Kobo has released new firmware for the Kobo Aura One and the new Kobo Aura Edition 2.
The new firmware is version 4.0.7523, and according to the folks over at MobileRead OverDrive support is only available on the Aura One.
The fact that it's not available on Kobo's other new ereader says a lot, so it's not looking good for other older models at this point either.
Usually Kobo's ereaders all have the same software features. In fact the software is nearly identical between the different models.
So far Kobo has only mentioned built-in OverDrive support in regards to the Aura One, so I guess it shouldn't be surprising. It looks like they might just be keeping that feature exclusive to their most expensive model.
On the description page for the Kobo Aura Edition 2 it doesn't say anything about built-in OverDrive support; it's only mentioned on the Aura One page.
All of Kobo's ereaders support getting free ebooks from public libraries, but they require using a computer to download and transfer the ebook to the reader manually. With the Kobo Aura One you can search and download library ebooks directly to the device over Wi-Fi, which is obviously a lot faster and more convenient.