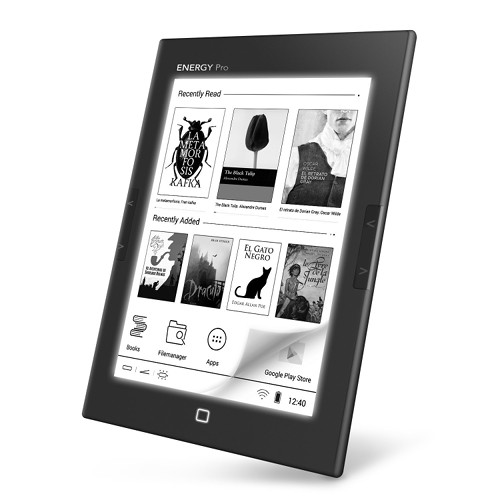 Earlier this year Spain-based Energy Sistem launched three new Energy eReaders that have E Ink Carta screens and varying levels of features, from an entry-level model without a frontlight to a Pro version with Android and a flush glass screen.
The Energy ereaders were briefly sold on Amazon but then they disappeared for a long time. Now they're back again. It's always good to see more options becoming available since there are so few ereader brands sold in the US.
Two of the Energy ereaders are pretty basic and lack touchscreens. One has a frontlight and the other does not.
The third model is the Energy eReader Pro HD.
It has a flush glass screen and runs Android 4.2 and can install Android apps.
All three models have 6-inch E Ink Carta screens with a resolution of 1024 x 758 (212 ppi). And all three have memory card slots and support the usual ePub and PDF formats, among others.
The Energy eReader Pro is based on the same Boyue ereader as the inkBook Obsidian, which is only $105 at Amazon so it's quite a bit cheaper than the Energy eReader Pro for $127 plus shipping.
The new inkBook Classic 2 is also cheaper than the Energy eReader Slim HD because of shipping charges, but it has a lower resolution screen, although it does add finger touch and Android app support.
Either way it's good to have more choices. Here's the list of Energy ereaders at Amazon. Note that shipping adds $20+ to these prices:
Energy eReader Pro HD – $127.68
Energy eReader Screenlight HD – $94.03
Energy eReader Slim HD – $75.45