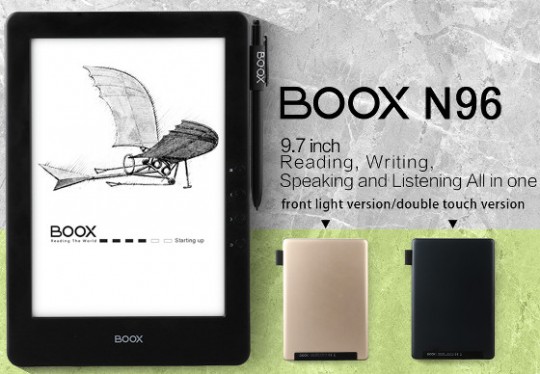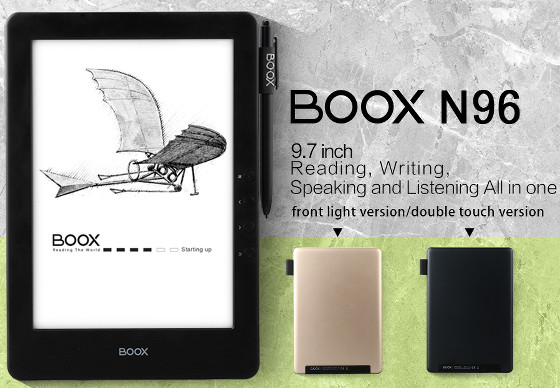 The Onyx Boox N96 is a 9.7-inch E Ink ebook reader with an Android operating system and pen-enabled touchscreen.
There are two models of the N96 available, one with a frontlight and stylus touch and another with stylus and hand touch but no frontlight.
Both Onyx N96 models started selling in early 2016.
Banggood started selling them in March and they were selling on Amazon and eBay in May.
Ten months later it's surprising how few reviews there are for the Onyx N96.
There are a handful of reviews on Amazon and Banggood.
Outside of that I can't find a single in-depth review of either Onyx Boox N96 anywhere, not even in a foreign language.
There's not a single detailed video review on YouTube, just a few basic videos from like 9 months ago that provide little insight into the hardware or software.
Personally I'd like to get a closer look at how the frontlight looks on a 9.7-inch screen, but it's been almost a year and there's still virtually no information available about it.
It's disappointing there hasn't been more interest in these type of large hybrid E Ink ereaders. Is it because of a lack of innovation? After all the N96 isn't a whole lot different than the previous model, the Onyx Boox M96. Both generations have the same screen, the same Android software version, and many of the same features overall.
It makes you wonder about the viability of this type of niche product moving forward with such an obvious lack of interest.