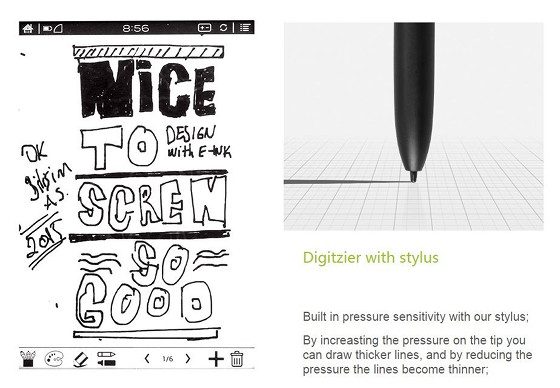 Another video review recently surfaced on YouTube for the Onyx Boox N96, and it doesn't look good if you were hoping for a note-taking device or sketchpad.
The Onyx Boox N96 is an ereader/tablet hybrid that combines open Android 4.0 with a 9.7-inch E Ink screen. The two don't naturally fit together so results are mixed.
There are there different version of the N96, two of which feature electromagnetic touchscreens with a special stylus pen for writing and drawing on the screen.
Naturally that leads some folks to consider the N96 as a digital notepad.
The video below will likely change people's mind in that regard.
The reviewer points out that the pen isn't pressure sensitive like they say it is in the description. The listing for the N96 at Banggood doesn't mention anything about the pen being pressure sensitive, but the listings at Amazon and eBay have the picture above saying it is. The same picture is also on Onyx's website for the N96 so something is amiss somewhere.
The N96 is more of an ereader anyway and it's not really marketed as a notepad but the Android software opens up a lot of possibilities.
Perhaps the 10.3-inch reMarkable Paper Tablet, which is being designed specifically for handwritten notes and accurate sketches, will end up filling that niche later this year.