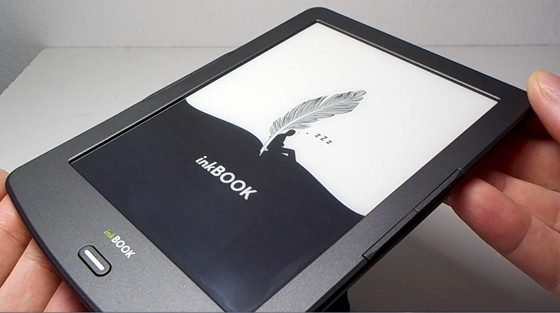 Review Date: April 2017 – Review unit provided by Arta Tech
Overview
The InkBook Classic 2 is the latest entry-level ebook reader from Arta Tech, a small ereader company based in Poland that ships their ebook readers worldwide.
The device is very similar to the InkBook Prime that I reviewed last week. Both have the same open Android 4.2.2 software but the InkBook Prime has some hardware upgrades, including a faster processor, more storage space, a frontlight and a higher resolution screen.
Check out this InkBook Prime vs Classic comparison review for a full rundown of the similarities and differences between them.
The software on both InkBooks is virtually identical, so instead of rewriting the same thing here I'm going to refer you to the software section of the InkBook Prime review. There's this secondary InkBook Kindle app setup and review too for a closer look at the Kindle Android app.
Hardware
The main difference between the two InkBooks is the screen. The InkBook Classic has a lower resolution 800 x 600 screen that doesn't have a frontlight.
Personally I don't have a problem reading on the lower resolution screen—the text and menus are easily readable and don't look fuzzy—but the lack of a frontlight is a big deal to me. I have a hard time reading on non-frontlit ereaders anymore because the E Ink screen is just too dark unless you're reading outside or next to a bright light or window. To me spending an extra $40 is totally worth it for a frontlight alone, but everyone is different.
The overall design of the InkBook Classic 2 is very similar to the InkBook Prime. I like the look and feel of the device. Apparently I'm not the only one because it won a Red Dot Award for good product design.
It's thin and light and despite the entry-level price it doesn't feel cheap at all. The build quality feels solid and the material has a soft texture to it that's nice.
It has two page buttons on both sides of the screen that can be programmed for other functions as well in the settings menu. You can even set one to toggle the touchscreen on and off if you want to avoid accidental presses.
Below the screen is a back button with an LED light indicator that turns from red to green when charging the battery.
The InkBook Classic 2 currently sells for $79 from Amazon.com and for £69 from Amazon UK, so it's about the same price as the entry-level Kindle. It can also be purchased directly from the InkBook website for 79€.
Pros
Nice design and solid build quality, especially for a sub-$100 ereader.
The software runs fairly quick and smooth for an Android ereader, and it's open to installing Android apps.
It has good touchscreen responsiveness.
Low price.
Cons
No frontlight.
Low resolution 167 ppi screen not as sharp as other screens.
It only has about 1.85GB of usable internal storage space (good thing it has a memory card slot for more).
Very limited onboard appstore and no Google Play support.
Verdict
The InkBook Classic 2 is a good option for a low-cost non-frontlit ebook reader. It has a nice comfortable-to-hold design and more advanced software than most ereaders. But frontlights are the best thing to happen to E Ink since it was created so I still can't help but question the usefulness of non-frontlit ereaders in general.
Nonetheless the InkBook Classic 2 is a good alternative to the entry-level Kindle for those that prefer a more open ereader with support for Android apps and ePub format. Plus the page buttons are a nice option to have with an ereader, and the expandable memory is an advantage too.
InkBook Classic 2 Specs
6-inch E Ink Carta display.
800 x 600 screen resolution (167 ppi).
Capacitive touchscreen with 2-point touch.
Android 4.2.2 operating system.
Dual-core 1.0 GHz processor.
4GB internal storage (~1.85 GB available).
512MB of RAM.
Wi-Fi 802.11 b/g/n.
MicroSD card slot for cards up to 32GB.
Micro USB port.
Battery life: ~2 weeks.
Supported languages: English, German, Spanish, French, Italian, Polish, Romanian and Czech.
Supported formats: EPUB and PDF (with reflow), Adobe DRM, Sony URMS DRM, MOBI, TXT, FB2, HTML, RTF, CHM.
Weight: 153 grams.
Dimensions: 159 x 114 x 9 mm.
Available from Amazon and InkBook Website.
InkBook Classic 2 Video Review