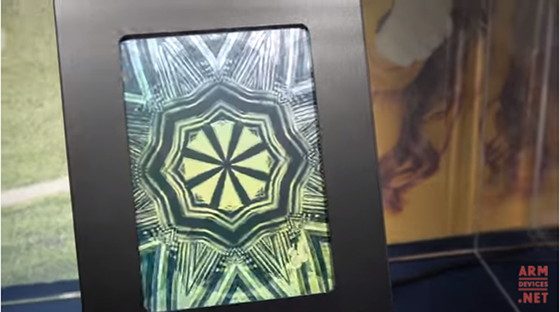 New color epaper screens called ClearInk (actually CLEARink but I can't stand writing it that way) were being shown off at SID DisplayWeek in Los Angeles.
In fact the screens won best in show so maybe they're something that might actually materialize into viable products (unlike all the other low-power color displays that get demoed at trade shows and then never amount to anything, like Liquavista).
ClearInk is similar to E Ink in that it is a low-power technology that uses electrophoretic ink to rearrange particles on the display.
The screens don't use much power because there is no light source; they rely on ambient lighting instead, and are sunlight readable, unlike LCD screens.
ClearInk has a couple advantages over E Ink, like the fact that it supports color and it's fast enough to play video at 30 frames per second. Apparently support for video is a big selling point.
Color E Ink bombed when they tried to release ereaders with it a few years ago because the colors were just too washed out and the contrast was too poor—now you never hear anything about color E Ink anymore (not for ereaders, anyway). Hopefully ClearInk can produce better results.
The company has a couple of customers lined up already and they plan to target the education market with ereaders for schools, along with wearables, mobile devices, and more.
ClearInk trial manufacturing starts in June and July, with mass production starting later this year. The first devices are expected to get released next year. The first wave of screens will reportedly support 4096 colors, and they plan to improve on that in the future.
ClearInk Color ePaper Displays Demo