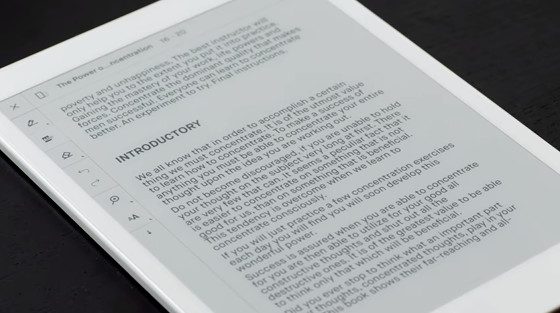 The reMarkable paper tablet is a new 10.3-inch E Ink ereader and notepad that is getting set to launch in the next couple of months.
It supports PDF and ePub files, and it doubles as an electronic notebook and sketchpad, as it comes with a stylus pen that supports 2048 levels of pressure sensitivity.
They've recently added some new YouTube videos showing the reMarkable tablet in action.
There's a video showing some of the reading and highlighting features, a video showing the notetaking capabilities, and another video demoing sketching and drawing.
Unfortunately the person in the videos writes so slow and deliberately that it's hard to get a sense of the latency with the E Ink and stylus (that was probably intentional).
It will be interesting to see how the reMarkable's notetaking and PDF capabilities compare to the new 13.3-inch Sony DPT-RP1.
The reMarkable's software definitely has a lot more features, especially when it comes to writing and drawing, but it remains to be seen how well it actually works since the product hasn't been released yet and considering it's a 1st gen model. Hopefully some user reviews will start cropping up over the next couple of months. The first wave of orders are supposed to ship in August or September.
Reading & reviewing on reMarkable
Notetaking on reMarkable
Sketching on reMarkable