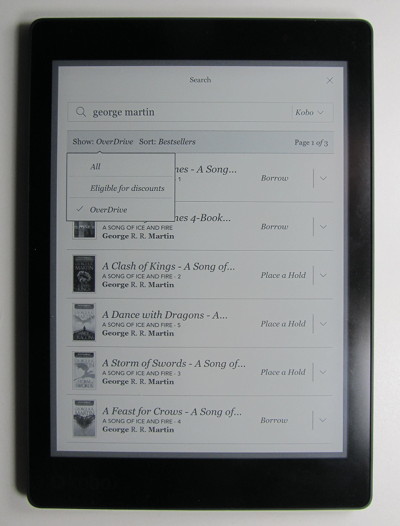 One of the coolest things about the Kobo Aura One is the fact that it can download ebooks from public libraries directly to the device for free.
The Overdrive features are integrated in such a way that it makes the whole process a lot more easy-to-use and streamlined than other devices.
With the Aura One your library's selection of ebooks gets added to the onboard Kobo store.
Then when shopping for books you can see which ones are available through your library for free.
You can select a book that's available and download it right away and start reading, or you can place a hold on books that are currently checked out.
It makes it easy to find library books because you can select to view Overdrive books and see a list of all the books you can download.
It's by far the best software feature that Kobo has added in a long time.
With other Kobo models you have to use a computer and Adobe Digital Editions to transfer library books. The same applies to most other ePub ereaders too.
Sony was the first to add direct library book downloads to the Sony PRS-T1, but the process wasn't as convenient as how it's setup on the Aura One.
Kindles have the advantage of having library ebooks wirelessly delivered, so you don't have to deal with Adobe Digital Editions, but you still have to use a separate device to search for and borrow the ebooks. Some people have claimed they could use the Kindle's web browser to check out library books, but I could never get it to work with my library's website.
The Kobo Aura One is proof that getting library ebooks onto E Ink ereaders doesn't have to be such a hassle. All ebook readers should have a similar easy-to-use system to download library books.