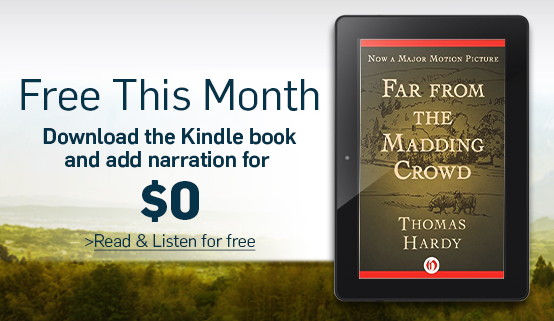 For some reason Amazon was late to update their Whispersync for Voice freebie for July, but they still managed to get it done before the end of the month.
This time around the free audiobook and ebook pair is Far from the Madding Crowd by Thomas Hardy.
The audiobook is currently listed at $28.95 at Amazon so being able to get it for free is pretty cool.
To get the free audiobook just make sure to check the box below the buy button for the free ebook where it says "Add Audible narration to your purchase for just $0.00".
Technically the audiobook only becomes free after you get the free ebook so that's why you have to do it that way.
Or you can use Amazon's Matchmaker tool to find the matching audiobook if you already have the ebook.
The audiobook of Far from the Madding Crowd is narrated by Jamie Parker and it has a runtime of 14 hours and 52 minutes.
Amazon and Audible having been giving away a free audiobook each month along with a free classic Kindle ebook to help promote their Whispersync for Voice feature that syncs Kindle ebooks and Audible audiobooks together so that you can easily switch back and forth between listening and reading.
You don't need to own a Kindle to get the free audiobook. You just need an app, either a Kindle app or an Audible app to listen to the audiobook. Here's more information about how to use Amazon's Whispersync for Voice and immersion reading features.
Here's the description for this month's free audiobook:
In a remote corner of early Victorian England, where traditional practices remain untouched by time, Bathsheba Everdene stands out as a beacon of female independence and self-reliance. However, when confronted with three suitors, among them the dashing Sergeant Troy, she shows a reckless capriciousness that threatens the stability of the whole community.