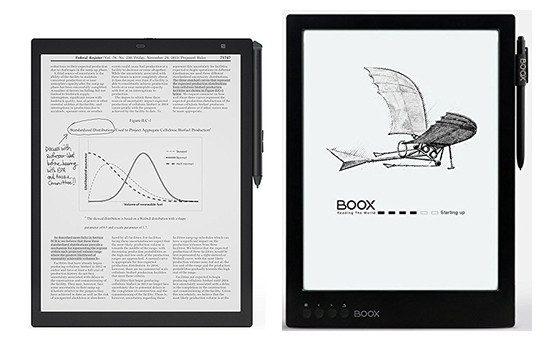 In a battle between two 13.3-inch ereaders with E Ink Carta displays, the Onyx Boox Max Carta and Sony DPT-RP1 are currently selling for the same price (except the Max can be had for even less).
The Max Carta has been going for $750 lately (and it still is on Amazon) but Banggood has it marked down by $50. Plus you can get an additional 9% off with coupon code 11annv9% to take the price down to $636 USD with free shipping.
The Sony DPT-RP1 isn't on sale but it's finally for sale and shipping now from B&H after being on backorder most of the time since its release in June.
Amazon hasn't quite caught up with orders yet; their listing for the Sony DPT-RP1 says it will be in stock on August 30th. But that's an upgrade over saying it will ship in the next 1 to 2 months as was previously stated.
It's interesting how new E Ink ereaders are often backordered for the first few months after their initial release. It was the same the Kobo Aura One and a number of Kindles.
Considering the limited availability up until this point, I wouldn't expect the Sony DPT-RP1 to go on sale anytime soon, but it's good to see the Onyx Boox Max drop to a lower price at the same time the Sony comes back in stock again to help drive competition between the two brands.