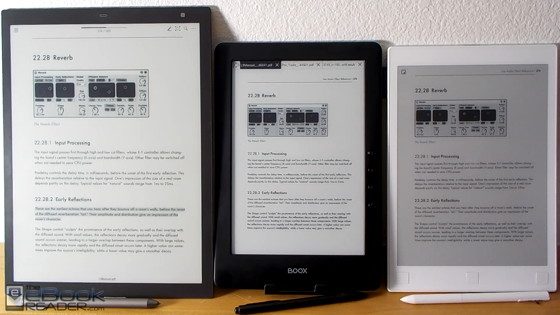 I recently decided to get a 9.7-inch Onyx Boox N96ML to see how it compares with the 13.3-inch Sony DPT-RP1 and 10.3-inch Remarkable.
Each device has its own particular strengths and weaknesses, but they share a number of similar features.
All three have large E Ink displays, all support PDF format, and each comes with a stylus for writing and drawing on the screen (not all N96 models support stylus touch, but I'm comparing the Boox N69ML Carta for this review).
Note that there's also the Onyx Boox Max Carta that has the same 13.3-inch screen as the Sony, but it costs twice as much as the N96.
After using the N96, I wouldn't recommend spending that much considering the outdated OS, the iffy touchscreen, slow processor, and lack of capacitive touch. Perhaps the Max Carta 2 can live up to the high price when it comes out.
Sony DPT-RP1
The Sony DPT-RP1 is Sony's second generation digital paper device. It has a 13.3-inch E Ink Carta screen, 16GB of storage space, Wi-Fi and Bluetooth (both for file transfers only), and the touchscreen supports both stylus and finger touch. See review for full details:
Advantages: Largest screen, best screen clarity, lightest of the three, very thin, fastest with quad-core processor, feels like writing on paper, view two PDFs at once, view notes and PDF simultaneously.
Disadvantages: Few navigation options, files have to be transferred via a desktop app, stylus battery requires charging, stylus tips wear down rather fast, more latency when writing, supports PDF format only.
Onyx Boox N96
The Onyx Boox N96 comes in a number of variations but all have 9.7-inch E Ink displays. Some have Pearl screens, some have Carta screens, some have frontlights, some support stylus touch or finger touch only, some support both. The model in this review is the N96ML Carta. It has a frontlight and stylus, but no capacitive touch.
Advantages: Frontlight, microSD card slot, stylus tips durable, audio support, TTS, more formats supported, web browser, Bluetooth, runs Android 4.0 and comes with Google Play to install apps, lots of zooming options, smooth scrolling, PDF reflow, dictionary, history to go forward and back, tabbed documents, etc.
Disadvantages: Touchscreen requires multiple presses and has ghost touch issue at times, lower resolution screen (150 ppi), stylus feels like writing on slick plastic, noticeably heavier despite being the smallest of the three, glass screen less durable, stylus required for operation.
Remarkable
The Remarkable Paper Tablet is a 10.3-inch E Ink ereader and digital notepad. At this point the Remarkable is geared more toward writing and drawing but it supports PDF and ePub formats as well, and the touchscreen works with both finger and stylus touch.
Advantages: Best suited for note-taking and drawings, stylus fast and accurate, lots of writing settings, pressure sensitive, feels like writing on paper, lots of notes templates.
Disadvantages: Darker screen, limited ereading features, few PDF navigation options, stylus tips require replacing, less storage space (8GB), 1GHz single-core processor and 512MB of RAM get bogged down at times, forced cloud syncing to load files via app.
Sony DPT-RP1 vs Remarkable Comparison Review
Large E Ink eReader Comparison Video