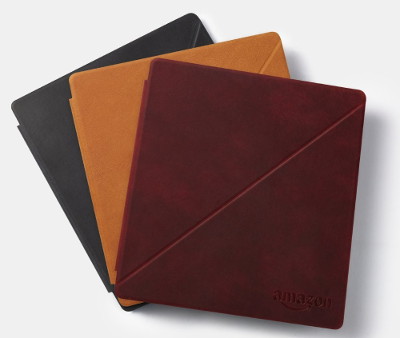 It looks like the rash of negative reviews for Amazon's official Kindle Oasis 2 covers has compelled them to drop the prices by $15-$20.
They also added a disclaimer to the product pages for both covers saying the cover is designed to protect the screen from dust and scratches, not from impacts, and that it only partially covers the device. They also recommend removing the cover when reading for the best experience.
The fabric covers are now selling for $29.99, down from $44.99.
The leather covers are selling for $39.99, down from $59.99.
Plus they have a few used ones available for even less. Some are as low as $26 with what are described as minor imperfections.
Oddly enough, the sale isn't even listed on Amazon's deals page so it seems more like a response to all the negative reviews than a sale.
Both the fabric and leather covers have over 100 reviews each with an average rating of 2.0 and 2.2 stars. There are lots of complaints about the magnets being too weak and the cover not providing much overall protection.
I posted a review of the fabric cover last week, and while I don't love it, I don't hate it either. I wouldn't consider it a 2 star cover, more like 3 to 3.5 stars. Once you get used to its quirks it stays on just fine, but the point that it doesn't provide much protection is valid—that's just how the Kindle Oasis style covers are. The high price was my biggest complaint, but $29 isn't quite as bad.