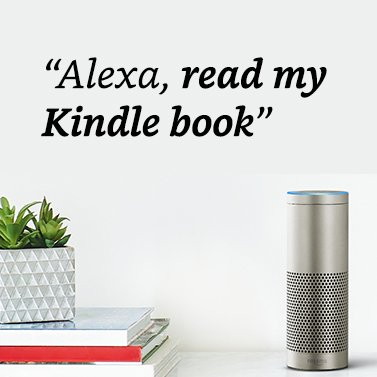 Last week Amazon released a software update to add Audible audiobook support to the entry-level Kindle and 1st gen Kindle Oasis (the new Kindle Oasis already had it), but a lot of people still wish Kindles had text-to-speech to read ebooks aloud like the Kindle Keyboard and 1st Kindle Touch.
Text-to-speech has evolved a lot since the days that it was available on Kindles. Now TTS is available on just about every device but Kindles.
Kindles do have a version of text-to-speech called VoiceView, but it's an accessibility feature that reads everything on the screen aloud and requires navigating the Kindle differently, so it's not convenient for regular TTS.
Plus Kindles have small batteries that drain quickly with audio playback so there are better options available these days.
Amazon's voice-controlled virtual assistant, Alexa, can read your Kindle ebooks aloud.
Alexa is available on Amazon's Echo devices, Fire TV and Fire tablets, among other things.
There are a bunch of different Alexa skills to use, including reading ebooks and playing audiobooks.
To listen to a Kindle book, all you have to do is say, "Alexa, read my Kindle book."
It will automatically pick up where you left off on the last book you were reading. Or you can say to read a specific title, like "Alexa, read A Game of Thrones."
You can also do things like ask Alexa to skip chapters and set a sleep timer for when to stop reading by saying, "Alexa, stop reading in 15 minutes."
You can ask Alexa to recite literary quotes as well, and you can ask what are the most popular books of the week.
Not all Kindle ebooks support text-to-speech but most do. It says on the product details page for each book if TTS is supported or not.