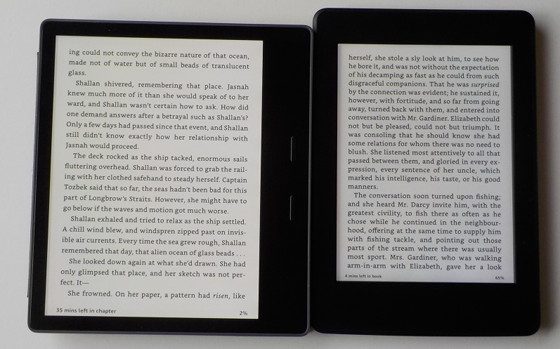 When Amazon announced the Kindle Oasis 2, a lot of people were surprised by the fact that Amazon finally released a Kindle with a screen larger than the usual 6-inch standard.
For years people have been wishing for a larger Kindle. It's the single most requested feature people have commented about on this blog, along with the return of audio support, and Amazon accommodated on both accounts with the release of the Kindle Oasis 2.
However, both aspects were only partially fulfilled.
The Oasis supports Audible audiobooks and VoiceView to read the contents of the screen aloud, but there's no MP3 support or regular text-to-speech like with older Kindles, so some folks are disappointed by that.
And when it comes to the larger 7-inch screen, it's only slightly larger than a typical 6-inch Kindle.
Some folks were hoping for an 8-inch Kindle or even a larger 9.7-inch Kindle similar to the old Kindle DX.
It was kind of surprising that they didn't choose to use a 7.8-inch screen since a few other models use that size and it's already been in production for over a year. Instead Amazon went with a unique 7-inch size that no other E Ink ereaders use.
Personally I really like how text lays out on larger screens. It doesn't feel as cramped, especially when using medium to larger font sizes.
The weird thing about the Kindle Oasis 2 is that once you get used to it it doesn't seem like it's very large at all; it doesn't feel much different in size than the 6-inch Kindle Paperwhite. Overall it's a bit wider with the buttons on the side, but it doesn't feel like a "large" ereader. See the Kindle Oasis 2 vs Kindle Paperwhite 3 comparison for a closer look at the differences.
By comparison the 7.8-inch Kobo Aura One seems much larger than a 6-inch device. It's funny how much of a difference an extra 0.8-inches makes. It doesn't sound like a lot but in person there's a big difference between a 6-inch screen and a 7.8-inch screen.
What do you think? Is the 7-inch screen on the Kindle Oasis 2 large enough?