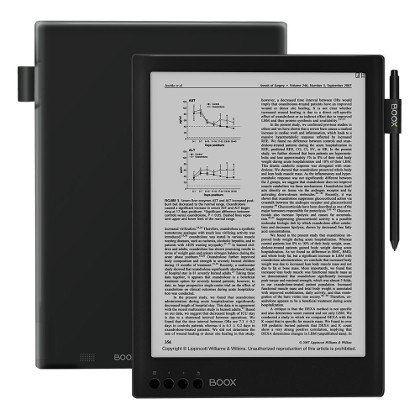 The Onyx Boox Max 2 is a 13.3-inch E Ink ereader and secondary monitor that was released about 2 months ago now.
With upgraded specs, a newer version of Android, and a dual-touch touchscreen, the Max 2 is off to a positive start so far.
It sells for $799 from Amazon where it currently has a 4.3 star rating with 80% of reviews 4 and 5 stars.
That's pretty good considering the high price and the fact that it isn't frontlit.
Compared to all the current Kindles only the Paperwhite has a higher rating with 4.5 stars.
Most of Onyx's other models don't fair as well with reviewers over at Amazon. The 9.7″ Boox N96 dual touch has a 3.6 star rating and the previous 13.3-inch Max Carta has a 3.3 star rating with 44% 1 and 2 star reviews. That's a pretty big difference from one generation to the next, but there isn't a large number of reviews to go by so that makes it harder to judge.
If early reviews are any indication, it looks like the Onyx Boox Max 2 might be the best 13.3-inch ereader on the market right now. With a 4.0 star rating at Amazon, the Sony DPT-RP1 is its main competition, and while the hardware is a bit nicer, it only supports PDF format, it can't be used as a monitor, and it has a number of crippling software limitations. Sony promised an update to add new features, but the device was released nearly nine months ago now and there still hasn't been an update.
The 10.3-inch Onyx Boox Note is expected to get released later this month. It's a lot like the Max 2 except it lacks the HDMI port for screen mirroring. It'll probably sell for about $550 so it'll be a cheaper option than the Max 2, and the size is still big enough to read PDFs comfortably. It will be interesting to see how it stacks up against the other larger models.