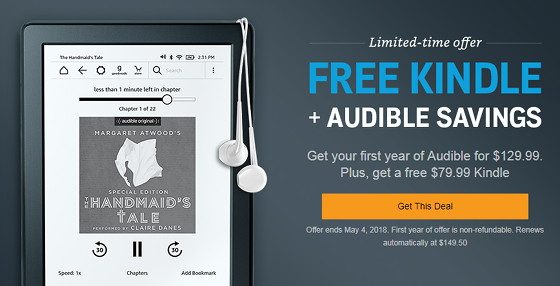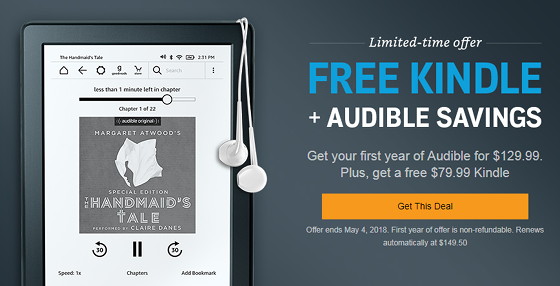 Audible is back again with another promotion. This time you can get a free Kindle with the purchase of a 1 year Audible membership.
The one year subscription also comes as at discount so if you like audiobooks and want to get a new Kindle this is a really good deal.
The only downside is it applies to the entry-level $79 Kindle only, not the Paperwhite or higher up models, but the $79 model does have Bluetooth and it does supports audiobooks now.
The way it works is you subscribe to Audible for 1 year at $129.99, then you'll get a credit of $79.99 to purchase an entry-level Kindle from Amazon.
The offer ends on May 4th and it's for new customers only.
Audible's membership plans normally cost $149.50 for 1 year, or $14.95 per month.
Audible is rolling out a number promotions lately to get new subscribers. There's a separate ongoing deal where you can get two free audiobooks and a $10 gift card for Amazon when signing up for a free two-month trial for Audible.
via: SlickDeals