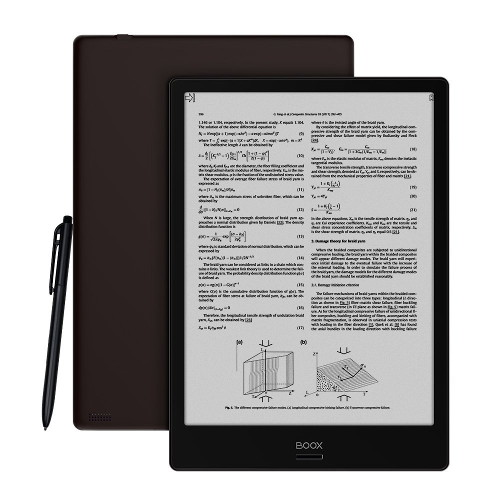 The much-anticipated Onyx Boox Note is finally available to purchase from Amazon.
The price is $549.99 with free shipping, and it's available with Amazon Prime so you can get it with free 2-day delivery and have it by the end of the week.
That's $50 less than the Sony DPT-CP1, which has the same 10.3-inch E Ink screen. It turned up for pre-order on Amazon last week but it's mysteriously gone now.
I've been checking the product page for the new Onyx Boox Note every day and it's good to finally see it available to purchase, although it'll probably sell out pretty quickly.
At $250 less than the 13.3-inch Onyx Boox Max2, it's a nice alternative for those that want a larger device for taking notes and ereading but don't need the super larger screen and HDMI port found on the Max2.
Otherwise the two devices are very similar. The Onyx Boox Note runs Android 6.0 and it has a quad-core 1.6GHz processor with 2GB of RAM and 32GB of storage space.
It has a capacitive touchscreen for finger touch and a Wacom touchscreen to use the included stylus pen to write notes and draw sketches. The stylus supports 4096 levels of pressure sensitivity.
It has Wi-Fi and Bluetooth 4.1 and a USB C port. It also supports audio and comes with a mic and dual speakers. It measures 249.5 x 177.8 x 6.8 mm and weighs 325 grams.
Onyx's software supports a wide variety of formats, including PDF, ePub, MOBI, TXT, DJVU, FB2, HTML and others. Plus it can install Android apps to add support for additional formats.
Check back next week for a video review and first impressions review!