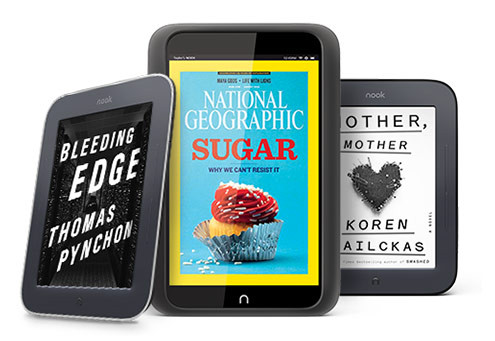 If you have an older Nook ereader or Nook tablet, you will need to make sure the software is updated by June 30th to keep the device working properly.
If you don't update your Nook it will lose the ability to download books and future software updates, and you'll no longer be able to purchase ebooks and manage your library from the Nook.
The TLS 1.2 security update is required for the following models:
Nook HD: 2.2.1
Nook HD+: 2.2.1
Nook Simple Touch: 1.2.2
Nook Simple Touch with GlowLight: 1.2.2
Nook GlowLight: 1.3.2
Nook Color: 1.4.4
Nook Tablet: 1.4.4
The new software version is listed to the right. If your Nook is running an early version you'll need to make sure it's updated before June 30th. To check the firmware version go to Settings > Device Info > About Your Nook.
Also note that the Nook HD and HD+ may need to be updated even if they show that 2.2.1 is installed because they didn't change the number for some reason.
To get the update all you have to do is make sure your Nook is charged and Wi-Fi is turned on. Also make sure it's not powered off; it needs to be in sleep mode.
The update should automatically download and install while your Nook is in sleep mode within 24 hours, according to B&N.
You can also manually install the update. Hit the link below to find download links for each model.
The newer models don't require an update, and the 1st gen Nook won't be getting an update at all. B&N has elected to stop supporting it so it will no longer work with B&N's Nook store after June 29th.